Why 'Gridman' Will Be Your New Favorite Superhero Anime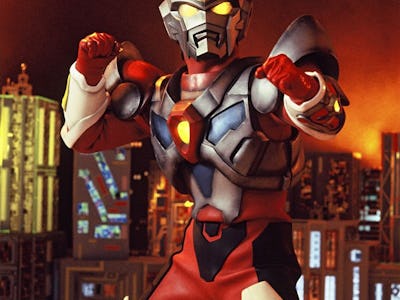 Tsuburaya Productions
Move aside, Saitama, there's a new anime superhero on the way. This past weekend, at the Studio Trigger panel at Anime Expo 2017 in Los Angeles, the studio announced a collaboration with Tsuburaya Productions for its newest project: SSSS Gridman, an anime reboot of the live-action '90s series that inspired the American show Superhuman Samurai Syber Squad. With the superhero genre still largely absent in anime, SSSS Gridman could fulfill a demand that rare shows like Guyver and One Punch Man have left in their wake.
Although a premiere date has yet to be announced, SSSS Gridman will be a full series from Studio Trigger, known for action shows like Kill La Kill. The series will be based on Tsuburaya's Denkou Chojin Gridman, in which three computer whiz kids create a video game superhero who comes to life. In 1994, at the height of the Mighty Morphin Power Rangers phenomenon, Gridman was adapted by DiC Entertainment and turned into Superhuman Samurai Syber Squad, which starred Matthew Lawrence and Tim Curry as the voice of the main villain.
This series marks the second time Studio Trigger has acquainted itself with Gridman. In 2015, the studio produced a short animation of the character, titled Denkou Choujin Gridman: boys invent great hero for the Japan Animator Expo.
Superheroes are all the rage as Marvel and DC reign supreme in movies and television, but there are significantly fewer superheroes in anime. Some of the biggest characters today include the Golden Knight Garo in Garo: The Animation and Saitama from One Punch Man, but that's pretty much it.
Even contemporary versions of classic heroes like Science Ninja Team (Gatchaman Crowds), Casshern (Casshern Sins), and Guyver (Guyver: The Bio-Boosted Armor) haven't taken off in the west. But because of the niche nostalgia factor in Gridman and the familiarity of Superhuman Samuray Syber Squad, Studio Trigger might have a winner on its hands.
There are no release dates yet for SSSS Gridman.