Watch the First Episode of 'One-Punch Man' on Adult Swim Now
After its premiere last weekend, catch up with the cult hit series now.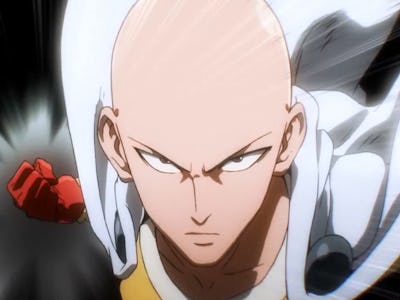 Viz Media
What does a bored superhero look like? Lucky for you, you can answer that question for yourself right this second, by watching the first episode of One-Punch Man on Adult Swim's website with an English-language dub. Give it a gander and you'll see a REALLY entertaining superhero bored with his blessings, not like that hack Hancock, whom Will Smith played.
For those unfamiliar, One-Punch Man is about a superhero, Saitama, whose punch is so, so, so powerful, no monster or villain can stand a chance against him. As a result, Saitama is now bored as hell — note his creepy blank expression — and yearns for an opponent that poses a challenge.
Starting as a web manga written and illustrated by a writer under the pseudonym "One," the series went viral and earned an anime adaptation from Madhouse (also known for Ninja Scroll, Beyblade, and Death Note) that aired in October 2015. At Anime Boston in 2016, Viz Media announced it picked up the U.S. rights to One-Punch Man for an English dub which premiered on Adult Swim on July 16. With the series underway, you can check out the first episode now before you leave for work, if you can get away with it.
One-Punch Man airs Saturdays at midnight on Adult Swim.