10 U.S. Cities With Cursed Traffic That Could Use Underground Tunnels
Let's make use of that space under the surface.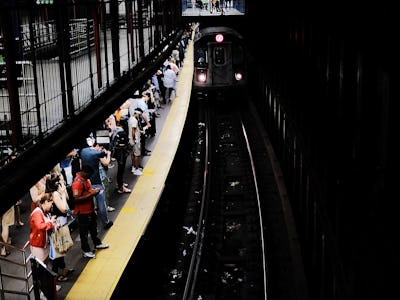 Getty Images / Spencer Platt
This past Monday, Chicago Mayor Rahm Emanuel revealed he was in discussions with SpaceX and Tesla CEO Elon Musk to discuss the possibility of the tech entrepreneur to build an underground high-speed rail to connect the city's downtown district with O'Hare International Airport, through his Boring Company. The discussions, Emanuel emphasized, were simply preliminary, but the mayor is keen on seeing if there are alternative transportation technologies that could be used instead of using existing railroads and rerouting them, or perhaps even building a double-decker car for the CTA's Blue Line to increase travel capacities to and from the airport.
A high-speed rail, however, would be a much costlier project which may prove to be much more beneficial in alleviating Chicago's transportation woes. The Windy City, in fact, is far from the only city in the U.S. currently working to better connect metropolitan airports to downtown city centers. The distance is already considerable, but when you pile on the traffic congestion, commute times are an absolute nightmare.
It might be worth Musk's time to talk about how the Boring Company could take advantage of this problem to provide a worthwhile solution to urban transportation planners. The company just showed off its "car pod" prototype, which would be one idea for putting all that underground space to good use. An underground is just another step beyond that.
Chicago, with the 14th worst traffic in the country (according to transportation navigation company TomTom's 2017 Traffic Index, could certainly use the help some stranger solutions might provide. Here are 10 other U.S. cities which could serve to benefit from underground problem-solving.
Los Angeles
TomTom pegs the city of angels with a congestion level of 45 percent — by far the highest of any metropolitan area in the U.S. That's also a 4 percent increase from 2016 numbers. L.A. is notorious for having bad traffic, and with an extremely weak underground rail system, the city has plenty of dirt to dig up and tunnels to bore to provide faster paths to all parts of such a sprawling town.
San Francisco
Another city who's residents complain endlessly about the weak public transportation system, San Francisco has an underground rail in the BART and MUNI, but only in some parts. Many of the system's lines work above ground — in fact many MUNI lines are basically surface trains, meaning they are at the mercy of road traffic as well. Tunnels would be boon to helping out Bay Area commuters.
New York
The subway — an underground train — goes everywhere, and it's still failing right now day by day. Is more tunneling the answer? Possibly. One this is for sure — there's no easy way to get to Manhattan from either of the city's major airports (La Guardia and JFK), nor Newark International Airport. But that's a separate issue. Let's fix the subway first? Maybe first by updating the signaling system?
Streetcars might be a better solution than tunneling.
Seattle
All that rain might belie the fact that Seattle ranks 4th in worst traffic congestion — especially in the evenings. The city is actually pushing through its own tunneling project, but not to alleviate traffic. More solutions welcome at this time.
San Jose
Although San Francisco and Oakland get all the Bay Area hype, there's still San Jose — a huge urban community in its own right. And if you thought the other two cities had public transportation obstacles to solve, San Jose is in even worse shape. The lack of density — like in L.A. — has pushed most planners to simply bank on people using cars to get around. And San Jose is starting to feel the pinch of that trend.
Miami
A fun part of Miami traffic is sitting on the roads and watching the lights turn green, and seeing no cars move. This is an extremely common experience for anyone who lives down there. The city could use an underground rail system — were it not for the fact that everything floods way too frequently.
Portland
Similar problems to Seattle, especially given the fact that city is becoming a focal point for young people itching to move to an urban community. Luckily the hipsterdom is keeping bikes popular, but the city will need something more high-tech if it wants to adjust to the population influx.
Honolulu
Great weather — horrendous traffic. An urban environment on an island is still subject to traffic woes, and Honolulu, with so few public transportation options, is no exception.
Washington, D.C.
The D.C. metro is not an easy monster to battle. There is plenty of room to expand the underground rail system, and certainly Musk and others might benefit from trying to sell their services to the nation's capital.
Boston
Boston's transportation system follows a similar pattern to San Francisco's — underground rails in city centers, and above-ground rails closer to the outskirts. So obviously, there are ways the city could improve its services by taking advantage of the space below the surface.