Tom Holland's Instagram Game Inspired 'Homecoming' Prologue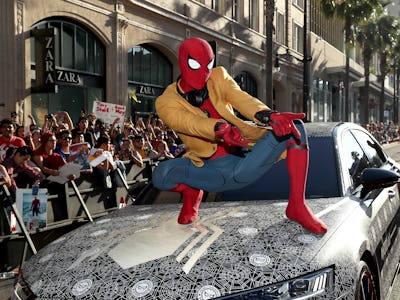 Getty Images / Rich Polk
Aside from being younger than both Tobey Maguire and Andrew Garfield, Tom Holland stood out from previous Spider-Man actors in one major regard: He's on Instagram. A lot. A young millennial through and through, Holland's active social media page inspired Spider-Man: Homecoming director Jon Watts to create the new film's prologue in which Spidey documents his once-in-a-lifetime adventure to Germany in last year's Captain America: Civil War.
In an interview with the Los Angeles Times, Watts revealed that he Instagram-stalked Holland when Marvel announced the young actor would become the new Spider-Man. "When Tom got the job I was looking at his Instagram and he was already filming everything he does," said Watts. "He's trying to get the job by filming himself doing backflips in his backyard, and that idea definitely originated somewhere around there: He's filming everything, so Peter should be doing the same."
It's true, Holland has a killer Instagram page that could make one feel old as heck just by glancing at it. A theater kid who began his career in the West End of London, Holland's entry into the Marvel Cinematic Universe has morphed him into a real-life superhero. The actor regularly posts videos and pictures of himself in mid-air, boxing, or hooked up to fancy machines. Meanwhile, I had a turkey burger yesterday, and I thought I was being healthy.
Spider-Man: Homecoming will be released in theaters on July 7.