Let Tom Holland's 'Spider-Man' Stunts Make You Feel Flabby, Old
We're all dying. He can flip through the air.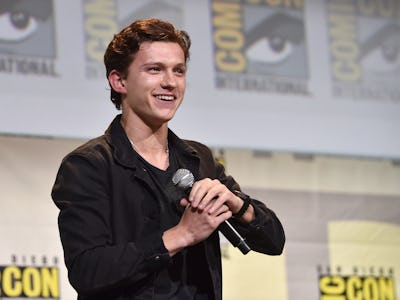 Getty Images / Alberto E. Rodriguez
If you yearn for adolescence – waking up at noon and an unbelievable metabolism – don't look at Tom Holland's Instagram page. The Spider-Man actor has been posting dozens upon dozens of videos and pictures of his stunt training and work out sessions, all in preparation for next year's Spider-Man: Homecoming, set for July 2017. Watching them is a guaranteed nosedive into an emotional abyss, because you'll never be this young and happy again. Let's explore, shall we?
After making his amazing debut on Iron Man's side in this year's Captain America: Civil War, Holland has been a hit with fans of the MCU, flipping his social media approach from an unknown British actor into a worldwide celebrity. At just 20 years-old, the London native has been ceaselessly training in martial arts, gymnastics, and CrossFit-style circuits to be in shape for his solo summer blockbuster Spider-Man: Homecoming, a co-production between Marvel and Sony from Cop Car director Jon Watts.
Here's one of his earlier Instagram videos from winter – several months before the release of Captain America: Civil War. Holland had already been shooting and knew a thing or two about doing flips.
But fast forward after that and you begin to see Holland get swole while still staying limber. Here he is doing chin-ups. Or maybe he's on a salmon ladder. I don't know. I have poor eyesight and a small attention span because I'm allergic to exercise.
More recently, Holland has upped his training with circuit intervals while dressed like Noob Saibot from Mortal Kombat.
Boxing has a rich tradition in London, so it's no surprise Holland took his training to the ring. Here are one of several instances of his combat training.
Here, Holland proves again how ridiculously HAM he's going for his training, strapped to some shit I don't want to Google because I had multiple ultiple doughnuts this morning and I already feel like garbage.
You know what? I'm gonna stop talking. You don't want to hear from me. Here's just more Holland doing a bunch of fuckin' flips and being young.
On top of all this INCREDIBLE ATHLETICISM, he's a genuinely charming dude. Here is Holland one-upping, of all people, Chris Hemsworth (they were co-stars on In the Heart of the Sea prior to Holland publicly signing to Marvel). It's a big deal when you can top Thor.
Spider-Man: Homecoming releases on July 7, 2017.