Here's How to Stream Jay-Z's New Album, '4:44'
Do you, uh, have a Tidal subscription?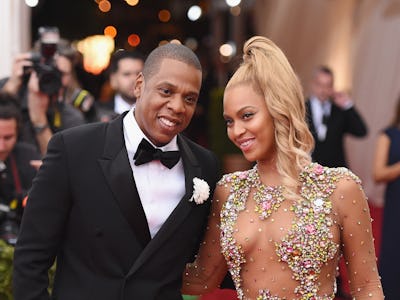 Getty Images / Mike Coppola
Beyoncé's husband, Jay-Z, released a new album, 4:44, on Friday. If you want to hear the new LP (perhaps to listen for any lyrics that could potentially be responses to Lemonade), then you're going to need Tidal. But, since nobody has Tidal, you might have a harder time streaming 4:44.
Let's start with the good. The 10-track album, his first in four years, features Beyoncé, Frank Ocean, The-Dream, and Jay-Z and Beyoncé's daughter, Blue Ivy Carter. Early buzz seems to suggest that it's good but not necessarily great. In one track, Jay-Z fires a shot at Kanye West, while other lines are being read as an apology to Beyoncé because of his alleged infidelity.
The bad news is that it's going to be hard to listen to the album (unless you, uh, do something illicit.) It's a Tidal exclusive, which makes a certain amount of sense since Jay-Z owns the beleaguered streaming service. This means you can't stream it on Spotify or Apple Music. But if you don't already have Tidal, you still might not be able to stream it. Sprint, a new shareholder in Tidal, is offering the album as part of a free trial Tidal subscription for Sprint customers. Complex reports that folks who sign up for Tidal now that the album has dropped won't be able to hear it unless they also sign up for Sprint.
Jay-Z also released a powerful music video of the track "The Story of O.J." The video is animated in the style of racist cartoons from the early 20th century, and it intentionally subverts these vile African-American stereotypes. You can watch it if you have Tidal, natch.
Variety reports that 4:44 will get a wide release in a week. This means, if you can wait seven days, you will be able to listen to 4:44 without having to sign up for Tidal.
Here it is on Tidal, if you're one of the select few who subscribes. Tell the rest of us plebians how it is.