Town Crowdsources to Buy Car for Man that Walks 3 Miles to Work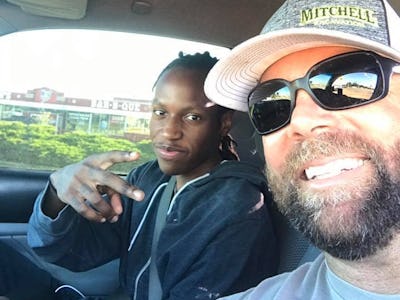 Andy Mitchell/Facebook
When 20-year-old Justin Korva saw the 2004 Toyota Camry, he couldn't believe his eyes. A fast food worker, he had been saving up the money to buy his own car so he could drive the three miles each way to work without walking any more. But locals in Rockwall, Texas, all chipped in and got him a car to get to work.
Websites like Kickstarter and Indiegogo might get a bad rap for crowdsourcing ideas that never come to fruition, but the town was spurred into action by a local man's Facebook post to come together and help Korva buy the car he'd been saving up for.
Andy Mitchell spotted Korva walking along the side of the road in the heat, wearing his full uniform, and offered him a ride. He shared a photo on Facebook of the two of them in the car to work.
"Meet my friend Justin!," Mitchell posted on Facebook last week. "I picked this boy up this am and gave him a ride to work at taco casa. He told me he walks 3 miles to work and home everyday. To all the people that say they want to work but can't find a job or don't have a vehicle all I can say is you don't want it bad enough!"
That post went viral, and a number of people in the area saw it. One of these was Samee Dowlatshahi, who owned a pizzeria. He put a donation box inside his business, and within 48 hours he'd received $5,500 in donations. This sparked the attention of a local Toyota dealership.
"I presented it to my general manager and said, 'Hey, let's help the kid. It seems like a great story,'" Danny Rawls, general sales manager at Toyota of Rockwall, told CBS News. "I sent [Dowlatshahi] a private message and said, 'Give me a call. I have a nice car that would work for the kid."
The donations were enough to buy the car, plus a $500 card for gas. There was even enough money left over to buy a year's worth of insurance and two years worth of oil changes.
"He's a very humble young man and accepted it with stride," Rawls said. "There couldn't have been more of a deserving individual, for sure."