Netflix's 'Castlevania' Cast Features Big Sci-Fi/Fantasy Names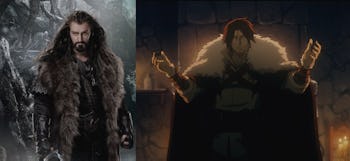 Warner Bros. and Netflix/Frederator Networks, Inc
The R-rated Castlevania series will hit Netflix exhilaratingly soon, but what's even more exciting is that it seems to have been made right. Executive producer Adi Shankar revealed the voice cast in a video on Wednesday: It's full of big-name, talented sci-fi and fantasy folks, including actors from The Hobbit and Battlestar Galactica.
Until now, we didn't even know which Castlevania characters were going to be in the show. Now we've even got pictures of what they're going to look like (hint: awesome).
Graham McTavish (a Scottish actor who plays Dwalin in The Hobbit movies) will voice Dracula; he helped narrate the video, deadpanning to Shankar that Castlevania without his character "would be pointless."
But that's just the beginning. Check out the rest of this crazy cast:
Richard Armitage voices Trevor Belmont, the lead protagonist; you may know Armitage as Thorin Oakenshield in The Hobbit movies.
Alucard is voiced by James Callis (Dr. Gaius Baltar in the Battlestar Galactica TV series).
Sypha Belnades is voiced by Alejandra Reynoso (Flora in the Winx Club animated TV series).
Lisa is voiced by Emily Swallow ("The Darkness" in Supernatural).
The Bishop is voiced by Matt Frewer (the multi-genre digital icon "Max Headroom," and Moloch in the 2009 Watchmen film).
The Elder is voiced by Tony Amendola (Bra'tac in the Stargate SG-1 TV series).
And again, Graham McTavish is Dracula.
Netflix also updated its description of the series:
"Inspired by the classic video game series, Castlevania is a dark medieval fantasy following the last surviving member of the disgraced Belmont clan, trying to save Eastern Europe from extinction at the hand of Vlad Dracula Tepe himself. The animated series is from Frederator Studios, a Wow! Unlimited Media company, written by best-selling author and comic book icon Warren Ellis and executive produced by Warren Ellis, Kevin Kolde, Fred Seibert and Adi Shankar."
Check out the video of McTavish and Shankar announcing the cast below.
Castlevania comes to Netflix on July 7.