'The Hobbit' Series Cost New Zealand Taxpayers Millions
The government says the movie can be credited for a booming tourist industry.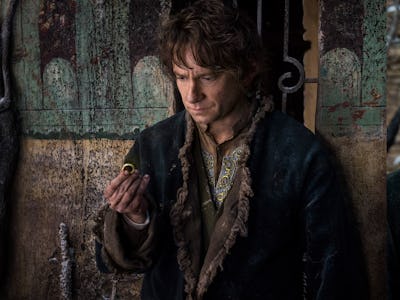 www.thehobbit.com
Allow me to paraphrase Tolkien for a moment: It's one movie studio to rule them all, one newspaper to find them, one small country to bring them all and in the darkness of the movie theater bind them.
A new report by the New Zealand Herald has detailed the massive amounts of tax subsidies given by the New Zealand government to the production of The Hobbit trilogy. It has government officials and Kiwi taxpayers alike up in arms over the government's willingness to cost citizens up to $200 million over the course of five years.
On the flipside, Warners was able to claim about 17 percent of the big budget series' $1.1 billion production costs. That margin seems unfair to members of the country's Green Party whose spokeswoman, Julie Anne Genter, told the Herald, "It seems like the Government isn't doing any real cost-benefit analysis on these policies, it seems as though they did just cave to pressure from Warner Brothers."
It's almost as if some mystical, spherical force is corrupting New Zealand, who wanted to keep their precious Warner Bros. around literally at all costs.
While the Green Party says that much spending doesn't justify the economic benefits, the government says differently. They shot back that the majority of the huge production costs were spent in New Zealand, the production has created some 3,000 jobs for the local economy, and has continued to be a boon for the country's tourist industry. Fourteen percent of foreign visitors cited the movie series as a reason to visit the country.
The government apparently didn't divulge over how long a period of time that number would hold. But given the fact that people were still going way down under on their vacations to get a chance to walk in Middle Earth long after the original Lord of the Rings trilogy ended more than a decade ago, the government's argument may be on to something. Still, it's a lot of money for a relatively small country.
It doesn't look like New Zealand is stopping the subsidies anytime soon. Economic Development Minister Steven Joyce bumped up the country's film production incentives in 2013 to 20 percent with a further five percent bonus to meet certain goals that ensure the strength of the New Zealand economy. It's a move that brought James Cameron to the country to make his next three Avatar movies. It looks like Kiwis are going to continue paying for a long time.