20 of the Best 'Guardians Vol. 2' 'Mr. Blue Skies' Intro Memes
From 'John Wick' to 'Deadpool,' dance fever has swept YouTube.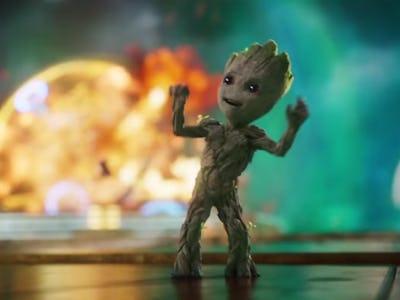 Marvel Entertainment
Rejoice, internet denizens, for there is a new YouTube meme upon us. Riffing off the joyful opening credits of Marvel's Guardians of the Galaxy Vol. 2, directed by James Gunn, in which the adorable Baby Groot dances to Electric Light Orchestra's 1977 pop hit "Mr. Blue Sky" while mayhem happens behind him. Since the film's theatrical run, a number of amateur YouTubers have edited other movies to parody and homage the now iconic intro.
Here's the basic structure: First, take a major action sequence from another movie, preferably one that's violent (The Bride versus Crazy 88 in Kill Bill), emotional (Spider-Man vs. Green Goblin in Spider-Man), or both (the Battle of the Bastards from Game of Thrones). Next, start the video during the dramatic silence or tense dialogue that always happens before the action. Then, as things begin to heat up, cue in the offensively cheerful opening notes to "Mr. Blue Sky." At the right moment, freeze frame! Place the film's title over the screen and bam. You've got a meme.
Not since "Shooting Stars" has there been a YouTube meme as fun as this one. Currently (and inconveniently) named "Guardians of the Galaxy Vol 2 Style," the meme has already found a sizable audience, all of whom seem to enjoy the juxtaposition of violent action and cartoonish '70s pop.
Because Guardians of the Galaxy Vol. 2 is not yet available on Digital HD or Blu-ray, it's legally impossible to show the original version for comparison. So you'll have to take our word for it as you watch 20 of the best versions of the meme that the YouTube community has to offer.
1. Kill Bill, Vol. 1
2. Spider-Man
3. Batman v Superman: Dawn of Justice
4. John Wick
5. John Wick: Chapter 2
6. The Raid 2: Berandal
7. Django Unchained
8. Rogue One: A Star Wars Story
9. Red vs. Blue
(In this author's humble opinion, this might be the best one.)
10. Saving Private Ryan
11. Deadpool
12. Kingsman: The Secret Service
13. Star Wars: Revenge of the Sith
14. Rick and Morty
15. Kong: Skull Island
16. Logan
17. Game of Thrones
18. Mad Max: Fury Road
19. Shrek
20. Indiana Jones and the Temple of Doom
Guardians of the Galaxy Vol. 2 will be available on Blu-ray soon.