This Professor's Comments on Otto Warmbier's Death Got Her Fired
Otto Warmbier was a "clueless white male."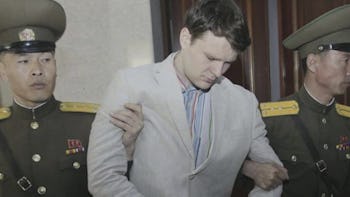 On Sunday, University of Delaware leaders released a statement saying they would not be rehiring Katherine Dettwyler, an adjunct professor in the university's anthropology department, following her comments that Otto Warmbier was a "clueless white male" who "got exactly what he deserved."
Warmbier had been arrested in North Korea and charged as an enemy of the state for allegedly attempting to steal a political poster from a hotel. He was imprisoned for 17 months before being medically evacuated back to the U.S. on June 13 while in a coma. He died a week later.
Dettwyler's comments were posted on her Facebook account on June 21 — an account that has since been deleted. According to the Philadelphia Inquirer, she writes that Warmbier was "typical of a mindset of a lot of the young, white, rich, clueless males who come into my classes."
"These are the same kids who cry about their grades because they didn't think they'd really have to read and study the material to get a good grade. His parents ultimately are to blame for his growing up thinking he could get away with whatever he wanted. Maybe in the US, where young, white, rich, clueless white males routinely get away with raping women. Not so much in North Korea. And of course, it's Ottos' parents who will pay the price for the rest of their lives."
The post sparked major reactions from conservative media outlets like Brietbart and Fox News, and, clearly, has cost Dettwyler her job.
Despite North Korea's infamous authoritarian rule and isolationist identity, about 6,000 Western tourists visit each year. Generally speaking, foreign visits are highly supervised and monitored by North Korean government employees. In a bizarre public confession following his arrest, Warmbier said he had attempted to steal the poster because an acquaintance from his Ohio church has offered him a $10,000 used car. He also said that he had been trying to join one of his college's secret societies, called the Z Society, and they had also encouraged him to steal the poster.
North Korea has been known to arrest Americans to gain leverage and flex some supposed muscle as an intimidating nation. Whether Warmbier even stole the poster and — as Dettwyler put it — thought he could get away with whatever he wanted, we'll never know.
Read the full comments from the University of Delaware.