A Day After Pride, SCOTUS Decides to Hear Same-Sex Wedding Cake Case
"It was the most awkward, surreal, very brief encounter."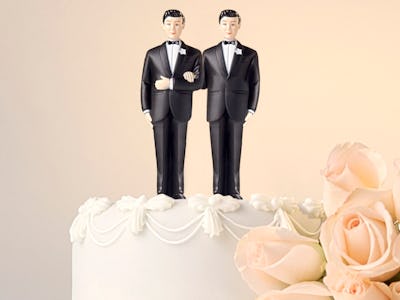 Flickr / majunznk
So far, June 2017 has been a month of numerous annual nationwide celebrations, the longest of wich is the 30-day-long celebration of Pride. Over the weekend, numerous parades in support of LGBTQ culture, history, and rights were held across the country, from New York, Oklahoma City, and Anchorage. On Monday, after the revelry had quieted and everyone had returned to work, news broke of a new fight in the battle against anti-gay discrimination, or, conversely, the right to religious freedom.
The Supreme Court announced Monday it will take up the case Masterpiece Cakeshop v. Colorado Civil Rights Commission.
The legal tumult began in 2012, when Jack Philips, the owner of Masterpiece Cakeshop in Lakewood, Colorado, a suburb of Denver, refused to create a cake for David Mullins and Charlie Craig — who were wed in Massachusetts but planned to have a reception in the Rocky Mountain state.
"It was the most awkward, surreal, very brief encounter," Mullins told the Denver Westword the next day. "We got up to leave, and to be totally honest, I said, 'Fuck you and your homophobic cake shop.' And I may or may not have flipped him off."
The couple filed discrimination charges and won before a civil rights commission and in the courts. Colorado cited its public accommodations law, "which prohibits refusing service to customers based on factors such as race, sex, marital status or sexual orientation."
For his part, "cake artist" Philips argued that he could override the public accommodation laws due to his First Amendment rights — namely, its protections for free expression and religious freedom. In a Supreme Court brief, Philips's lawyer said the couple could have, "easily obtained a free wedding cake with a rainbow design from another bakery."
Still, the Supreme Court will hear the case during its next term despite that, in 2015, a Colorado appeals court ruled against Phillips. "Masterpiece does not convey a message supporting same-sex marriages merely by abiding by the law and serving its customers equally," the court said.
This case, between a shop proprietor refusing service to a homosexual couple, has precedent and has seemed to put enough pressure on SCOTUS to finally consider the matter. The Washington Post notes that the court refused to hear a case involving a photographer who declined to photograph a lesbian couple's marriage in New Mexico in 2014.
Masterpiece Cakeshop v. Colorado Civil Rights Commission centers around the question of whether, if the business owner opposes same-sex marriage, can the states compel the business to serve same-sex couples. While anti-gay marriage discrimination may achieve another landmark step forward towards equality, recent SCOTUS appointee Neil Gorsuch, however, has recently dissented in a case arguing that birth certificates for same-sex couples include the names of both parents.