An Augmented Reality Tape Measure Shows What Apple iOS 11 Can Do
The new tool is slated to come out with Apple's new operating system in September.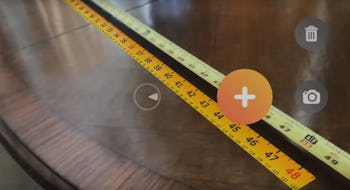 Laan Labs
On Sunday, Berlin-based developers Laan Labs showed off a demo of its new smartphone app, an augmented reality tape measure that can be used to measure the lengths of objects in the real world. The company hopes to eliminate the annoying search for a ruler or having to guess while measuring furniture, clothing, or your living space.
Laan Labs built its app with the beta version of ARKit, Apple's platform for augmented reality developers first announced during its World Wide Developers Conference earlier this month.
The app works like this: use the tape measure, just look at whatever you want to measure through your phone's camera, and tap the screen where you want to start and stop measuring. The app will measure the distance and project a yellow tape measure on your screen.
In the demo video, the app measured a physical tape measure to show that it was coming up with accurate lengths. By combining data about the phone's movement through space with information about key features in the room taken from the camera, the augmented reality software is able to come up with a map of physical space in real time.
This is how a digital image, be it a tape measure, a Pokemon, or anything else, can be projected into a physical space in a realistic way.
According to the app's website the augmented reality measuring tool will be available for download with the launch of iOS 11, which is expected to come out sometime in September along with the iPhone 8. ARKit will also become publicly available with iOS 11, allowing more app developers to dabble with augmented reality.
As opposed to more hardware-intensive AR systems, anyone with a new iPhone or iPad will be able to develop and use augmented reality content.
iOS 11 and ARKit are already available to beta testers and developers, but a public beta for the new operating system should become available in the next few days.
As such, augmented reality is expected to be a more prevalent feature of the iPhone 8.
To see a demo of AR Measure App and learn how it works, check out the video below.