"There's Several Other Shoes to Drop for Uber," Says Crisis Specialist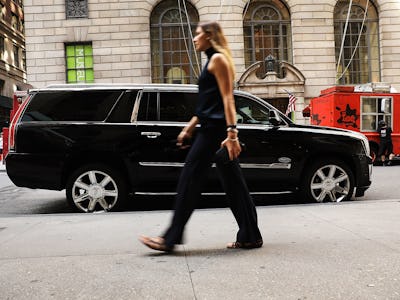 Getty Images / Spencer Platt
After six months of crisis, scandals, and drama, Uber CEO Travis Kalanick resigned from his place at the head of the company on Tuesday. On June 13th, Kalanick had announced that he would take an indefinite leave of absence from his role, in part to grieve for his recently departed mother, but also to distance himself from the company he was in danger of scuttling. A week later, it appears that wasn't enough for Uber's board of directors, and one crisis expert has a guess as to why.
"The chances are there's several other shoes to drop for Uber," Sam Singer Singer, president of Singer Associates, a crisis communications firm in San Francisco, told Inverse. "Something very significant happened between that leave of absence and the resignation. And that very significant thing must be that there's other information that has not be disclosed that is going to come out about him. They're wanting to clear the deck knowing that something else or that a number of things are going to come out."
There's some weight to this prediction, because Kalanick didn't expect to go. The founder and former CEO is inextricably tied to his company by way of a powerful voting block and space on the board, but other forces inside the company's financial backers were able to force him to step down this week.
See also: Uber's 50 Worst Moments of 2017 (So Far)
The New York Times reports that Kalanick only resigned after representatives from one of the company's biggest shareholders ambushed him at a hotel in Chicago and, over five hours of negotiation, got him to resign. Singer says, in his experience, that kind of pressure would probably come after the investors discovered something more.
"That's why I think they forced his hand, that a leave of absence wasn't enough for the investors or board," Singer says. "They needed to have him resign because something or things have been determined or discovered over the course of the last week."
Otherwise, Singer says, a leave of absence should have been enough.
"I thought it was a very smart move for him to take an indefinite leave of absence," Singer says. "He is a visionary leader, he created this company, despite his demerits and issues he's a great entrepreneur. Something happened between that leave of absence and last night's resignation."
Singer says the only way for Uber to rebuild its public image is to get everything out now, like ripping off a band-aid.
"In a perfect world, you want to get out all the bad news out you can now, so that it's not death by a thousand cuts, from a communications standpoint," he says.
After his resignation, Kalanick is as far out of sight and out of mind as he can be, given the circumstances. But if Singer is right, Kalanick's name might not be out of the headlines for long.