Netflix, July 2017: Get Ready to Stream These New Releases
It's an eclectic array of thrillers and classics for those hot summer nights.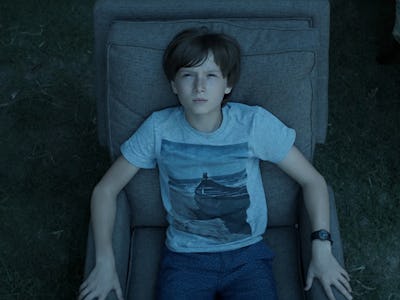 Netflix
When the heat kicks into high gear this July, we recommend holing up in a cool, dark living room to 'flix it up. There's a smattering of movies and shows available throughout the month. In in the mood for a comfort film? There's Titanic, Free Willy, and E.T. the Extra-Terrestrial to take you back. That didn't work? Not one, not two, but three Land Before Time movies will join the fold. Looking to get into some Singaporean drama shows?There's Yours Fatefully, The Ultimatum, and The World at Your Feet, to get you started. Did you miss Lion or Rogue One: A Star Wars Storyin theaters? No worries, it's there.
Want something new? There's a slough of Netflix Originals to check out including the first season of the animated series Castlevania and the first season of Ozark, a Breaking Bad-esque drama.
See the full list below for all the releases this July.
Available on July 1:
Titanic (1997)
The Originals: Season 4 (2017)
Free Willy (1993)
Disney's The Mighty Ducks (1992)
Madagascar: Escape 2 Africa (2008)
Capo "El amo del tunel": Season 1 (2016)
El Barco: Season 1 (2011)
The Truth Is in the Stars (2016)
Deep Water: Season 1 (2016)
E.T. the Extra-Terrestrial (1982)
Hostages (Israel): Season 2 (2016)
Zip & Zap and the Marble Gang (2013)
The Invisible Guest (Contratiempo) (2016)
Albion: The Enchanted Stallion (2016)
Liar's Dice (2013)
Offspring: Season 6 (2016)
Boat Trip (2002)
Mixed Signals (1997)
Delicatessen (1991)
Caramel (2007)
Yours Fatefully: Season 1 (2012)
The Ultimatum: Season 1 (2009)
Unriddle II (2012)
Unriddle (2010)
Yes We Can!: Season 1 (2012)
Spice Up: Season 1 (2007)
World at Your Feet: Season 1 (2014)
Emma (1996)
The Boy in the Striped Pajamas (2008)
Last Night (2010)
Out of Thin Air (2017)
Witnesses: Season 2 (2017)
The Longest Yard (2005)
Jackass: Number Two (2006)
Punch-Drunk Love (2002)
Are We There Yet? (2005)
Are We Done Yet? (2007)
The Land Before Time (1988)
Dad (1989)
The Land Before Time II: The Great Valley Adventure (1994)
The Land Before Time III: The Time of the Great Giving (1995)
Here Alone (2016)
Spawn: The Movie (1997)
Code Name: The Cleaner (2007)
The Astronaut Farmer (2006)
Best in Show (2000)
Proof of Life (2000)
Matchstick Men (2003)
Taking Lives (2004)
Police Academy (1984)
Available July 2:
El Chema: Season 1 (2016)
Available July 3:
Diamond Cartel (2017)
Extraordinary: The Stan Romanek Story (2013)
Available July 4:
The Standups: Season 1 — NETFLIX ORIGINAL
Available July 5:
iZombie: Season 3 (2017)
Available July 6:
Speech & Debate (2017)
The Void (2016)
Butter (2011)
Available July 7:
Castlevania: Season 1 — NETFLIX ORIGINAL
Dawn of the Croods: Season 4 — NETFLIX ORIGINAL
Degrassi: Next Class: Season 4 — NETFLIX ORIGINAL
Luna Petunia: Season 2 — NETFLIX ORIGINAL
1 Mile to You (Life At These Speeds) (2017)
Available July 8:
Bad Santa 2 (2016)
Horse Dancer (2017)
Available July 9:
Lion (2016)
Available July 11:
Gabriel Iglesias Presents (2011)
The Gentleman (1994)
Jerry Rocha (2015)
Available July 14:
Friends From College: Season 1 — NETFLIX ORIGINAL
To the Bone — NETFLIX ORIGINAL
Chasing Coral — NETFLIX ORIGINAL
Buddy Thunderstruck: The Maybe Pile — NETFLIX ORIGINAL
## Available July 15:
Rake: Season 4 (2016)
West Coast Customs: Season 4 (2016)
Available July 17:
Uncertain Glory (1944)
Fittest on Earth: A Decade of Fitness (2017)
A Cowgirl's Story (2017)
Available July 18:
Aditi Mittal: Things They Wouldn't Let Me Say — NETFLIX ORIGINAL
Ari Shaffir: Double Negative: Collection — NETFLIX ORIGINAL
Girlfriends' Guide to Divorce: Season 3 (2017)
Rogue One: A Star Wars Story (2016)
Available July 20:
Pretty Little Liars: Season 7 (2016)
Available July 21:
Ozark: Season 1 — NETFLIX ORIGINAL
Chance U: Season 2 — NETFLIX ORIGINAL
The Worst Witch: Season 1 — NETFLIX ORIGINAL
Available July 22:
Railroad Tigers (2016)
Available July 24:
Victor (2015)
Available July 25:
Joe Mande's Award-Winning Comedy Special — NETFLIX ORIGINAL
Munroe Island (2015)
Available July 28:
The Incredible Jessica James — NETFLIX ORIGINAL
Daughters of Destiny: Season 1 — NETFLIX ORIGINAL
The Adventures of Puss in Boots: Season 5 — NETFLIX ORIGINAL
Available July 31:
After The Reality (2016)
Checkpoint (2017)
Dark Night (2016)
Taking Earth (2017)
To Be Determined:
Being Mary Jane: The Series: Season 4 (2017)