The Movie With Batman's Most Personal Villain Hits Blu-ray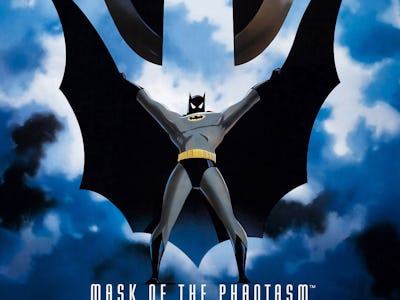 Warner Bros.
In 1993, Warner Bros. sought to capitalize on the popularity of its now classic Batman: The Animated Series by producing a film with the show's signature art deco style and set in the same continuity. The result was Batman: Mask of the Phantasm, an animated movie co-directed by Eric Radomski and Bruce Timm, that stands as one of the greatest Batman movies ever made. Despite a disappointing box office, Mask of the Phantasm is now regarded as a cult classic with a solid 82 percent approval rating on Rotten Tomatoes. And, finally, that movie will soon be available on Blu-ray this summer.
On Monday night, Warner Archive announced on its official social media channels that a 1080p Blu-ray release of Batman: Mask of the Phantasm will be available for purchase "next month." The Blu-ray, which will contain both a 16x9 theatrical aspect ratio, as well as a 4x3 version, will contain special features that are yet to be announced. And because it's being released through Warner Archive, quantities will be limited and up for purchase almost exclusively online.
Regarded for its heartbreaking story about a lost love that ends in a killer twist, Batman: Mask of the Phantasm has been highly written about since its release more than 20 years ago. It's almost a guarantee that whenever there is a "Best Animated Movies Ever" or "Best Superhero Movies Ever" list, Mask of the Phantasm will have made the cut.
As it was a film from the amazing Batman series, of course it stars Kevin Conroy as Batman and Mark Hamill as his famous Joker, although the studio tried to minimize Joker's presence in the film's meager marketing in order to stand out from Tim Burton's films. The film also stars Dana Delany (China Beach) as Andrea, a woman from Bruce Wayne's past who rekindles their romantic relationship. Delany impressed the filmmakers on Mask of the Phantasm so much, she later voiced Lois Lane in Superman: The Animated Series.
This is far from the first time Mask of the Phantasm will be available for home video, but it is the first time it will have a high-definition transfer. Upon its release in 1993, the film became available on VHS and LaserDisc (remember those?) before being released, and re-released, on DVD on several occasions.
Batman: Mask of the Phantasm will be available on Blu-ray "next month," so, presumably, in July.