Luke Skywalker Before 'Last Jedi' is Featured in 'Battlefront 2'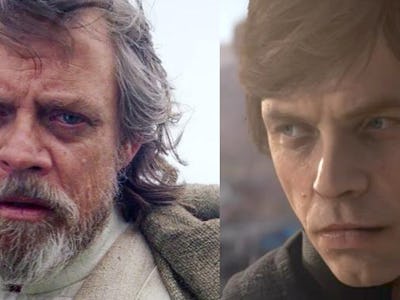 'The Force Awakens' / 'Star Wars Battlefront II'
The video game Star Wars Battlefront II may allow Rey to battle Darth Maul and other canon-defying action, but there might still be some hints about Luke Skywalker's secret history following Return of the Jedi in the 30 years before The Last Jedi
Mitch Dyer, co-writer of the game, told Newsweek, "I've always wanted to see what happens after Return of the Jedi. We immediately hit that point in the storytelling where we said 'let's definitely start at what everyone thought was the ending.' And we continue that story."
Though many elements of the game exist outside of canon — like the Yoda vs. Darth Maul scene depicted in the Gameplay Trailer revealed at E3 or Rey's surprisingly new lightsaber — the main story campaign will fall squarely into canon territory.
"We work with the same people who work with Rian Johnson to make The Last Jedi," Dyer said.
The main plot of Battlefront II will follow Iden Versio, an elite forces Imperial soldier from Inferno Squad taking part in a mission known as "Operation Cinder" following the events of Return of the Jedi. As Dyer explains it, "[W]e'll get to see how something like Luke Skywalker's story after Return of the Jedi intersects with Inferno Squad."
Though Luke won't be a main character in Battlefront II, his presence will be a unifying thread that connects the two later Star Wars trilogies together.
"[W]e came up with a really great hook for a Luke Skywalker story that we think is pretty interesting and cool, and Lucasfilm did too." And according to Dyer, Lucasfilm doesn't want to "leverage the heroes and exploit them in a way that cheapens them," so we can expect a story in Battlefront II that will inform how we see Luke when he returns to the big screen in The Last Jedi.
Even though Battlefront II will feature plenty of fan service, the inclusion of a post-Return of the Jedi Luke Skywalker won't be an instance of that.
Star Wars Battlefront II will be released November 17, 2017, and Star Wars: The Last Jedi hits theaters almost a month later on December 15, 2017.