SpaceX Sets Up a 'Weekend Doubleheader' of Droneship Landings
Two launches and rocket landings in 48 hours? Bring it on.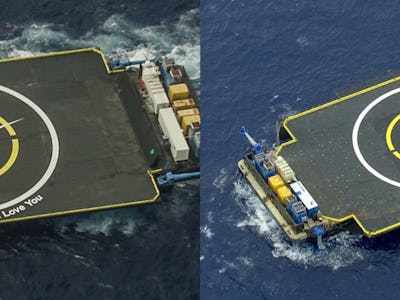 SpaceX
SpaceX will attempt to launch and land two Falcon 9 rockets this weekend on either sides of America, setting up the the tightest launch schedule in the company's history and offering the public a chance to view droneship landings, a historical achievement a little more than a year ago, twice in three days. If all goes well, it'll be practically routine, which is exactly what SpaceX wants.
On Friday, a SpaceX Falcon 9 rocket will launch as early as 2:10 p.m. from from Kennedy Space Center in Florida on a mission to put a Bulgarian satellite into orbit. Here was the rocket on Friday morning, on the launchpad:
The first-stage booster of the above Falcon 9 will attempt to land upright on the deck of Of Course I Still Love You, a barge-turned autonomous landing deck, about 8-10 minutes or so after launch:
On Sunday, another commercial satellite launch (technically 10 new satellites part of Iridium's NEXT communications network) will take off from Vandenberg Air Force Base in southern California, using a different Falcon 9. After sending off the sats, the rocket will flip end-over-end, high above the Earth, and attempt a landing on Just Read the Instructions, a different droneship in the Pacific:
Sunday's Iridium satellite launch is scheduled for 1:25 p.m. Pacific.
The reason for the tight schedule? SpaceX engineers realized they needed to replace a valve on the nose cone of the payload fairing for the BulgariaSat-1 mission, which pushed the launch date from Monday to Friday.
"Postponing launch to replace fairing pneumatic valve," announced SpaceX CEO Elon Musk on Twitter. "It is dual redundant, but not worth taking a chance."
SpaceX has been eager to ramp up its spaceflight schedule in order to accommodate more launches in a given month. The company has expressed hopes to be in a position to launch rockets every two to three weeks, and also get to a point where it can re-fly rocket inside 24 hours.
This weekend could be just the leap forward the company needs to prove it's nearly there.
Watch both rocket launches via SpaceX's in-house webcasts over at spacex.com/webcast.