Jennifer Lawrence Is Back as Mystique in 'X-Men: Dark Phoenix'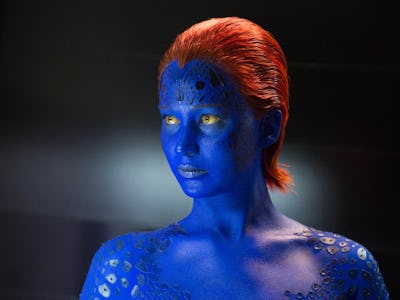 20th Century Fox
This year may have seen the end of the old X-Men timeline with Logan, but things are still heating up for the OG X-Men. Michael Fassbender, Jennifer Lawrence, and James McAvoy will reprise their roles for X-Men: Dark Phoenix, the next movie in the rebooted X-Men series, that will also have screenwriter Simon Kinberg take point as the director. The film also has a release date, as it's primed to hit theaters on November 2, 2018.
Deadline reports that a ton of the franchise's stars will reprise their roles for Dark Phoenix, an adaptation of John Byrne's mega-popular X-Men: The Dark Phoenix Saga comic from 1980. Among the returnees are McAvoy (Split, Atomic Blonde) as Professor Xavier, Lawrence (The Hunger Games) as Mystique, and Fassbender (Assassin's Creed) as Erik, aka Magneto, all of whom joined the series in 2011's X-Men: First Class.
Prior to this announcement, there was some worry that the three actors — especially Lawrence, who has become one of the biggest movie stars on the planet — might not return for a fourth installment. Wednesday's news confirms that's not the case.
Also of significance is Sophie Turner (Game of Thrones), who played a young Jean Grey in last summer's X-Men: Apocalypse. In the original Dark Phoenix Saga, Jean Grey is imbued with a cosmic entity, the "Phoenix Force," that transforms her into the all-powerful Phoenix. At the end of X-Men: Apocalypse, to vanquish Oscar Isaac's big purple villain, Jean Grey unleashed an unbelievable power, which resembled the Phoenix Force, an obvious set-up for the 2018 movie.
Jessica Chastain is reportedly in talks to play the villain in the new film.
X-Men: Dark Phoenix comes out on November 2, 2018.