Sigh, 'Broad City' Is Bleeping Trump's Name in Season 4
Viva la resistance, or whatever.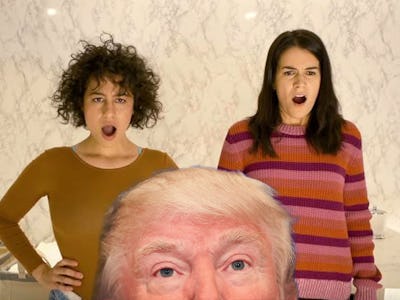 Even though the trailer for the upcoming fourth season of Broad City included a scene where Ilana says "fuck you, Trump," before masturbating, it seems like we won't be hearing the president's name during the actual season. USA Today reports that Donald Trump's name is going to be bleeped out like it's a swear word during the actual season. Which, like, okay. It's not that great a joke, but it's an even worse measure of resistance.
To be fair, series creators Ilana Glazer and Abbi Jacobson were caught off guard when Trump won the 2016 election. They, like many, many other people, thought Hillary Clinton would win, and they even had Clinton on the show for Season 3. "We wrote [Season 4] being like, 'Here we go! Hillary for president!' Glazer said, explaining that they had to rewrite a lot of it after "this game-show host became president of our country."
While Season 4 will be informed by Trump's presidency (one episode finds Ilana having trouble masturbating and being her true self because of the pall that Trump has cast across the country), the word "Trump" won't be uttered.
"There's no airtime for this orange [person]," Glazer said. "We bleep his name the whole season."
This is lame. Donald Trump isn't fucking Voldemort, to borrow the language that so many other mealy acts of so-called resistance use. It's an utterly meaningless gesture that doesn't accomplish anything other than making people who aren't being seriously impacted by Trump's policies feel good about doing something. This might be one of those situations where nothing is better than something. If you think Trump is a problem, as Broad City does, then maybe take a stand that amounts to something more than putting your head in the sand and calling it a diss.
Broad City Season 4 premieres on August 23 on Comedy Central. It'll probably be pretty good and very funny, this is just a super weak joke on every front.