'Broad City' Looks More Bonkers Than Ever in First Season 4 Trailer
RuPaul, Steve Buscemi, and a trip to Florida?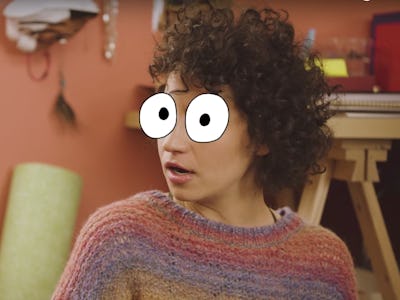 Comedy Central
Abbi and Ilana have always inhabited a very, very exaggerated version of New York in Comedy Central's Broad City, but now that 2017 has upped the ante in the real world, the show looks like it's going to be even wilder in the upcoming fourth season. The first trailer for the next season, which is set to premiere late this summer, is full of nudity, bodily functions, drugs, gunfire, crazy costumes, masturbation, and Steve Buscemi.
We don't get too much of a sense of "plot," though that's not really the point. What we can glean is that even though Ilana and Lincoln aren't together anymore, Hannibal Buress is still on the show, and they seem friendly. In one scene, an orange-wigged Ilana makes eyes at Lincoln from across a party, so maybe they'll be back together. Meanwhile, Abbi is still hooking up with Trey, so, that's happening.
In addition to a shot of Buscemi, the trailer also reveals that RuPaul and Wanda Sykes will appear in Season 4, and teases a trip to a gun-crazy Florida town. And, while Hillary Clinton may have cameoed in Season 3, Broad City has no such love for President Donald Trump. "Fuck you, Trump," Ilana says, readying her vibrator. "I'm going back in."
Broad City comes back for Season 4 on August 23 on Comedy Central.