'Destiny 2' Isn't Coming to PC Until October 
That's quite a long wait Guardians.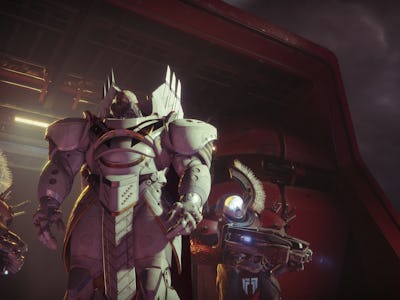 Activision
During Sony's E3 2017 press conference, Bungie took the stage in the middle of the show with two new trailers for Destiny 2 showcasing the game's new villain Dominus Ghaul and the PlayStation exclusive content players can expect come September. As we expected, our new Destiny nemesis Ghaul looks phenomenal and terrifying clad in played white armor along with a mask that closely resembles that of a Sith Lord. The exclusive content on the other hand doesn't seem to be offering anything outside of the usual though, with a new ship, multiplayer map, co-op Strike, armor sets, and exotic sniper rifle.
More importantly however, Bungie revealed when the game will launch across all platforms – including PC. The sequel is coming to Xbox One and PlayStation 4 on Wednesday, September 6 with a beta starting on July 18 for PS4 and July 19 for Xbox One before turning into an open beta on July 21 for both platforms. PC players on the other hand, will have to wait until some point in late August before the beta drops via what we're assuming will be the Blizzard Launcher.
If you're looking to pick up Destiny 2 on PC, you'll have to wait until October 24 to play, which is nearly two months following the game's console debut. Unfortunately, that means you'll need to dodge a lot of spoilers if you were planning on diving into the PC version of Destiny for the first time blind, but that's going to take a lot of willpower and dedication knowing the passion sitting behind Destiny's community.
Many players are currently worried about how this two month delay will affect their progression compared to those picking up Destiny 2 on Xbox One or PlayStation 4, especially given how much the game emphasizes loot progression like its predecessor. Either way, you can now digitally pre-order Destiny 2 on PC to prepare on Blizzard's Launcher using gold from your World of Warcraft characters bank account or your preferred payment method.