'Deadpool 2' Adds Shioli Kutsuna to the Fray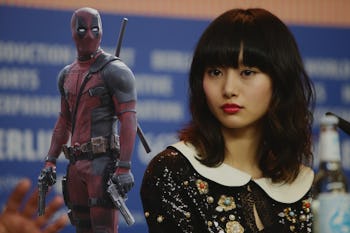 Vittorio Zunino Celotto / Getty Images, 20th Century Fox
The sequel to 2016's mega-hit Deadpool is still pretty far away, but Deadpool 2, from director David Leitch (John Wick), has just added Japanese-Australian actress Shioli Kutsuna to its cast. There isn't any information in regards to whom Kutsuna is playing from 20th Century Fox's legally available roster of Marvel characters, but Kutsuna will join newcomers Zazie Beetz and Josh Brolin, alongside returnees Morena Baccarin, Brianna Hildebrand, and of course, Ryan Reynolds, who stars as none other than the Merc with a Mouth.
Kutsuna, who was born and raised in Australia before moving to Japan to pursue an acting career, has appeared in a number of Japanese TV dramas and feature films. She appeared in the 2010 live-action adaptation of the manga Beck, playing Minami, the lead character's sister, before appearing in the 2013 Japanese remake of Unforgiven, starring Ken Watanabe. In 2016, she voiced Lunafreya in the 3D, CGI animated movie Kingslave: Final Fantasy XV, a role that went to Game of Thrones star Lena Headey in the English dub.
It's unknown what characters Kutsuna might play in Deadpool 2. Racebending aside, there are only a few Marvel mutants — let alone those who have been part of the X-Force that Deadpool is drawing from — who are ethnically Japanese. Who wants to wager she'll play Ichisumi, the Horseman of Pestilence, recruited by Apocalypse, in Rick Remender's X-Force?
Deadpool 2 will be released on June 1, 2018.