There are "Handmaids" Walking Around Downtown L.A.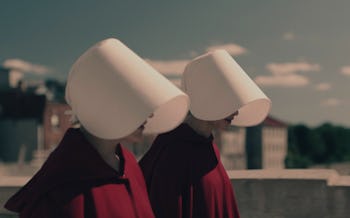 Take Five / Hulu
Los Angeles has long been the city of celebrities and laid-back hippies, but now there's a new crew in town: somber, marching women decked out in dystopian couture.
Hulu sent them into West Hollywood to gather recognition for the hit show The Handmaid's Tale in preparation for the Emmy nominee announcements on Tuesday. The network's calling it the "For Your Consideration" campaign, and it's certainly been successful at drawing the spotlight. Since hitting the streets on Saturday, the women have been the subject of a flurry of social media attention.
Six groups of marchers — 38 people all together — donned the white bonnet and red dress associated with the TV series and walked in pairs around the city in solemn fashion.
Upon its April 26 premiere, The Handmaid's Tale — based on Margaret Atwood's famous 1985 novel — was instantly celebrated for its gripping cinematography and evocations of real-life misogyny. It certainly deserves an award, though the competition is steep.
The season finale of The Handmaid's Tale premieres on Wednesday on Hulu.