'PlayerUnknown's Battlegrounds' Hits Xbox One This Year 
In a surprise announcement, battle royale is coming to Xbox.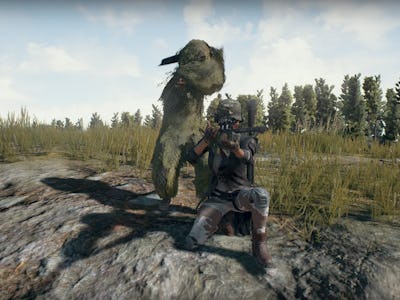 YouTube.com/Xbox
During Microsoft's E3 2017 press conference on Sunday, executive Phil Spencer had a few surprises for Xbox fans, including the introduction of a well-known Arma modder Brendan "PlayerUnknown" Greene. Green has recently taken the world by storm with his early access title, PlayerUnknown's Battlegrounds.
Released earlier this year via Steam, Battlegrounds is the latest game in a long lineup of battle royale experiences available on PC.
Like other similar titles, Battlegrounds puts you in the middle of a gigantic battle for survival in dangerous locations with weapons scattered about the map. As the available safe area on the map decreases with each passing second, you'll then be forced to use the resources you've collected to fight your opponents to the death until you're the only one left standing.
While there's been a huge outcry for battle royale gaming experiences to make a debut on consoles, not a single prospective project has managed to pull it off without server or performance issues — but it looks like Greene and the team at Bluehole are seeking to utilize the power of Xbox One X to make it a reality.
Not only did he make an appearance on Microsoft's stage at the press conference, he announced that Battlegrounds would be making a debut on the Xbox One exclusively this fall.
Battlegrounds coming to consoles is a big deal, especially because the game's currently facing performance issues while in early access on PC. However, if the team can pull it off, it'll be one hell of a ride for console players. It's unclear if the game will release in early access on Xbox One, although we're hoping for a full release later this year.
See the trailer for PlayerUnknown's Battlegrounds right here:
PlayerUnknown's Battlegrounds will be released on Xbox One late 2017.