Oh, you're releasing a new album, Katy Perry? It'd be a shame if I put all my albums back on Spotify.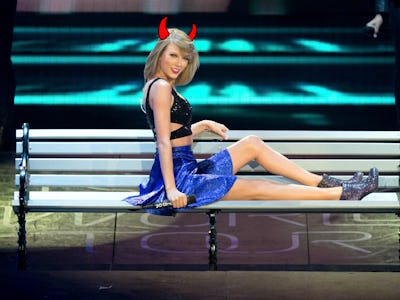 Taylor Swift is America's most merciless pop star. For years now, the music world has known about the major beef between the 1989 singer and Katy Perry, and on Friday, Swift took another shot at her arch enemy. Pop music is modern Shakespeare, y'all.
To briefly recap, Swift and Perry's epic fight started sometime between 2013 and 2014 when Perry allegedly poached some backup dancers that had been performing with Swift. From there, the popcorn-eating masses got to enjoy lots of Twitter shade and Swift's "Bad Blood," which is about the whole beef. Another important event to note is that in 2014, Swift removed all of her music from Spotify, claiming that streaming devalued her music.
That brings us to Friday, when Perry released her latest album, Witness. The LP, which features the vore-tastic ode to cunnilingus, "Bon Appétit," is getting mixed reviews so far. However, at the same time that Witness dropped and became available to stream on Spotify, Swift suddenly decided to put all of her music back on Spotify.
In an Instagram post, Swift's team said they made the records available again "in celebration of 1989 selling over 10 Million Albums Worldwide and the RIAA's 100 Million Song Certification announcement," but, come on, that's bullshit. She put it back on Spotify because she's amazingly, beautifully petty, and she wanted to undercut Katy Perry's big day.
Oh — and Swift lowered the price of all of her albums on Apple Music, too.
At the end of the day, though, the only song you should be streaming on Spotify isn't a cut from Witness or any of Swift's albums. No, you should just stream Carly Rae Jepsen's latest song, "Cut to the Feeling," on repeat, because there is good in this world. I've embedded it below. You're welcome.