The CW Announces 'The Flash' Season 4 Premiere Date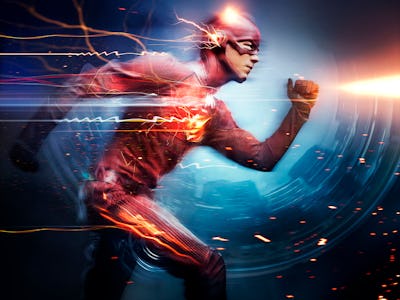 Warner Bros. Television
For most of Season 3, fans of The CW's The Flash were obsessed with one question: Who is Savitar? While we eventually learned that the evil God of Speed was a malevolent doppelgänger of Barry Allen himself, after the season finale, fans had another question: When is The Flash coming back for season 4? Now we have an answer. Season 4 of The Flash will premiere on Tuesday, October 10, at 8 p.m. Eastern.
The CW made the announcement on Thursday, along with the premiere dates for the three other Arrowverse shows, Supergirl, Legends of Tomorrow, and Arrow. Those shows will premiere on October 9, 10, and 12, respectively. Supergirl will also air at 8 p.m., while Arrow and Legends will start at 9 p.m., with Legends kicking off right after The Flash on Tuesdays.
We have a ton of questions still remaining for Season 4 of The Flash. Last we saw Barry, he sacrificed himself to the Speed Force. But, based on everything we know about Season 4, chances are he'll find some way to escape pretty early into the season.
The official synopsis for the season, which you can read below, certainly seems to suggest things will go back to business as normal.
Barry Allen (Grant Gustin) lived a normal life as a perpetually tardy C.S.I. in the Central City Police Department. Barry's life changed forever when the S.T.A.R. Labs Particle Accelerator exploded, creating a dark-matter lightning storm that struck Barry, bestowing him with super-speed and making him the fastest man alive The Flash. But when Barry used his extraordinary abilities to travel back in time and save his mother's life, he inadvertently created an alternate timeline known as Flashpoint; a phenomenon that gave birth to the villainous speed god known as Savitar, and changed the lives of Caitlin Snow (Danielle Panabaker) and Wally West (Keiyan Lonsdale) forever. With the help of his adoptive father, Joe West (Jesse L. Martin), his lifelong best friend and love interest Iris West (Candice Patton), and his friends at S.T.A.R. Labs — Cisco Ramon (Carlos Valdes), C.S.I Julian Albert (Tom Felton), and an Earth-19 novelist named H.R. Wells (Tom Cavanaugh) — Barry continues to protect the people of Central City from the meta-humans that threaten it. Based on the characters from DC, The Flash is from Bonanza Productions Inc. in association with Berlanti Productions and Warner Bros. Television, with executive producers Greg Berlanti, Andrew Kreisberg, Sarah Schechter and Todd Helbing.
All three previous seasons of The Flash are currently streaming on Netflix.