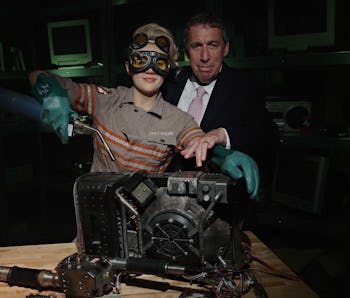 Entertainment
'Ghostbusters' Director Wants to Unite Series and Add Diversity
"To have a sort of local group of Ghostbusters that tie with the head office in New York would be fun."
Getty Images / Cindy Ord
Last summer's Ghostbusters from Paul Feig may not have been the massive success that both fans and Sony wanted, but original director Ivan Reitman has some ideas where he wants the franchise to go next. On a recent episode of Super News Live, a daily online show from Moviepilot, Reitman said he wants to unite the original Ghostbusters with the women who led the 2016 reboot, as well as expand the in-universe Ghostbusters franchise to the rest of the world.
While on Super News Live and joined by original cast member Ernie Hudson, Reitman laid out his ideas for the future of the Ghostbusters. "It's interesting because we're doing a lot of work about where do we go next with Ghostbusters," Reitman said. "I think one thing that fans have clearly wanted, and so did I, that somehow we tie the worlds together."
In his explanation, Reitman said that "the historical films, the ones that I originally directed back in the '80s" should be "mixed with the film Paul Feig just did." He added: "I think it was a little awkward that it wasn't connected, and we certainly heard a lot from everybody out there. So I would definitely want to connect to all of that."
Reitman also added his thoughts about the flexibility of the Ghostbusters and how they could operate around the world. During the Q&A, Reitman said:
"What we've been doing a lot of is thinking about the franchise rights for Ghostbusters. Because Ghostbusters, that idea doesn't have to just take place in New York, it can happen over the world. I thank it would be really cool to see Korean ghosts or Chinese ghosts. All those great traditions in the world have all these tales and things those people are afraid of. To have a sort of local group of Ghostbusters that tie with the head office in New York would be fun."
And it would! In fact, The Real Ghostbusters cartoon, of which Reitman served as executive producer in the late '80s, had episodes set outside of New York and in places like Tokyo, Alaska, Paris, and even rural Texas. And Reitman is definitely on to something about other cultures having their own ideas on ghosts. Take for example Balete Drive, a street in Quezon City in the Philippines, which is considered haunted by a lady with a bloody face who appears at night. It's a popular myth, because the Baelete trees that used to line the road are unique to Philippine geography and are culturally considered as gateways for ghosts to enter Earth. Now imagine that in a Ghostbusters movie.
See the live video below.
The future of Ghostbusters is looking a bit uncertain at the moment. While Sony is pursuing a new animated series, it seems less likely that there will be a theatrical sequel to 2016's reboot, which starred Kristen Wiig, Leslie Jones, Melissa McCarthy, and Kate McKinnon. Paul Feig wants to do a sequel, but original writer/actor Dan Aykroyd recently said that Feig's film cost too much, and that Feig "will not be back on the Sony lot any time soon."