10 of the Biggest Games Coming to PC in 2017
If you're a PC gamer, there's plenty to look forward to this year.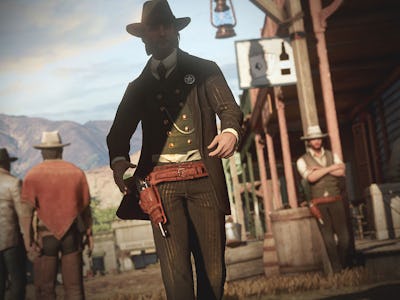 playwwo.com
The PC gaming community has been enjoying a huge year so far, with dozens of major video game releases and early access titles taking players by storm with wonderful gameplay experiences and promising game concepts. From the beautiful soundtrack of NieR: Automata to the dangerous urban encounters of PlayerUnknown's Battlegrounds, there's been no shortage of stellar games to share with your friends on a gaming PC. The best part about 2017, however, is that it looks like the gaming industry is just getting started.
Even though we're still a few days away from the Electronics Entertainment Expo and all the news it might bring regarding new releases, there's plenty of PC games we already know about coming throughout the rest of this year. So, to help get you excited, here's a look at the biggest PC releases coming in 2017, along with a few you shouldn't miss from earlier this year.
Resident Evil 7
Even though Resident Evil 7 already came out earlier this year, the game remains one of the best survival horror experiences available on PC due to a solid port complete with few performance issues and a fantastic control scheme on mouse and keyboard. So, if you're looking for a terrifying night, consider trying out Resident Evil 7's new perspective on your rig.
NieR: Automata
While Nier: Automata was plagued by launch woes such as resolution issues and bugs causing it to crash, it surfaced as a masterpiece which players considered to be a work of art instead of a video game. Automata is an experience filled with flair, personality, and wonderful moments you shouldn't miss if you enjoy role-playing games with multiple endings.
Wild West Online
With Red Dead Redemption 2 delayed until 2018, Wild West Online may be your ticket to experiencing the western world of revolvers, bandits, and train robberies with your friends. Designed as a massively multiplayer online experience, Wild West Online drops you into gigantic sandbox where you can make yourself a legend a variety of different ways.
Escape from Tarkov
Despite a long winded early access schedule for backers, Escape from Tarkov is a promising hardcore survival experience focused on delivering realistic gunplay and tense encounters with both A.I. and enemy players. Developed by Battlestate Games, the project is still early in development (and thus far from official release) but set to bring wild firefights and a three-faction team system where players fight for resources to PC sometime in 2017.
Pyre
Coming from Supergiant Games, best known for their work on Bastion and Transistor, Pyre brings players to a strange realm resembling something along the lines of purgatory where you'll be leading a team of exiles through matches of what appears to be soccer. To earn your freedom, you'll have win the ancient competition. It's a strange, interesting concept, and one which we're excited to see later this year given Supergiant's proven track record of delivering gorgeous experiences.
Mount & Blade II: Bannerlord
Developed by TaleWorlds Entertainment, Mount & Blade II: Bannerlord is a game which mixes the spectacle of large scale battle with the allure of a sandbox role playing game while adhering to the mechanics of a simulation. The original Mount & Blade is nearly 10 years old at this point, which makes Bannerlord an exciting addition because of the graphical overhaul and massive medieval sieges players can participate in.
Quake Champions
The latest game in the Quake series, Quake Champions is bringing back the fast-paced arena combat of its predecessors to the modern gaming scene of today. Like Overwatch, Champions revolves around a series of champions who offer unique abilities to use against your opponents while precisely jumping, running, and shooting your way to the top of the ladder.
Squad
Currently available on Steam via early access, Squad is a tactical first-person shooter built by the same development team who brought the Project Reality mod to Battlefield 2 hundreds of players still enjoy today. The goal is to create realistic combat experiences through radio communication, accurate squad member roles, and base building in large scale environments. It may be a long way until full release, and yet somehow Squad has already delivered one hell of a tactical experience.
Destiny 2
It's no secret that Destiny 2 is finally heading to PC courtesy of the Blizzard Launcher later this year, introducing Bungie's sequel to the PC gaming community following Destiny's release on consoles in 2014. As you might expect gamers are excited for this one, and thanks to a great first impression during Destiny 2's gameplay preview event, we can agree that Bungie's latest is a much smoother experience on PC. Unfortunately, we don't know a release date yet, although Bungie has confirmed it will be coming after the game's console release on September 8.
Star Citizen
Although Star Citizen has been in development for years, the game is still going strong with a passionate player base who continues pour money into the ambitious project. As the months continue to go by, bits and pieces keep being added to the game with dozens of major updates – including the latest first-person shooter update which promises a fluid transition between piloting a ship and engaging enemies on the ground. With ships to customize, combat to enjoy, exploration to dive into, enemy ships to board, and player crews all present in-game, Star Citizen is slowly becoming the epic space multiplayer adventure everyone always dreamed it could be.