The 6 Biggest Games We Want to See at E3 2017
E3 is hiding a lot of great secrets this year.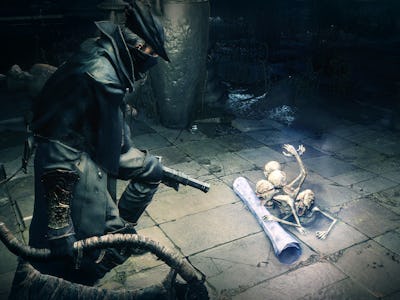 playstation.com
Every June, gamers from around the world tune into a week of video game broadcasts, announcements, and demonstrations coming from the crowded convention halls of the Electronics Entertainment Expo. Better known as E3, the annual trade show is held in downtown Los Angeles as a celebration of the video game industry, hosting the latest major announcement from the most prominent video game studios take place – including industry giants like Microsoft, Sony, Electronic Arts, Ubisoft, and Nintendo.
As you might expect, there's always a lot of rumors running around during the days leading to E3. These usually focus on possible video game debuts, titles which have been in limbo for a few years, and highly anticipated franchises being expanded with a sequel as fans clamor for news about their favorite franchises.
With that in mind, here are a few video games we're especially hoping to see this year during E3.
Star Wars from Visceral Games
When Electronic Arts and Disney signed an exclusive licensing agreement for EA publish Star Wars video games developed by Visceral Games, DICE, and BioWare in May of 2013, fans seemed to have a mixed response as to whether it was the best possible direction for Star Wars games following the closing of LucasArts.
Over the last four years, we've seen Star Wars: Battlefront and the newly announced Star Wars: Battlefront II, but there's been little more than a few brief teasers from EA's other unnamed Star Wars project. After acquiring a few talented individuals from the gaming industry such as Amy Hennig (who left Uncharted's Naughty Dog) and Jade Raymond (formerly executive producer on Assassin's Creed) for the team at Visceral, it's safe to say Electronic Arts will give us a title and show off the game provided it's still scheduled for a 2018 release.
Monster Hunter XX
In May, Capcom announced the latest entry in the Monster Hunter series would be coming to both the Nintendo 3DS and Switch this August exclusively in Japan – once again leaving western audiences eagerly awaiting news of a worldwide release date. If Capcom's previous release cycle for Monster Hunter games is anything to go by, it's highly likely we won't see Monster Hunter XX in the United States for another 8 months.
With Nintendo pushing the Switch platform heavily with games like Splatoon 2, Super Mario Odyssey, and ARMS, many are hoping Monster Hunter XX will make an appearance during Nintendo's E3 presentation to announce the game will be releasing outside of Japan on August 25 as well.
Bloodborne 2
Ever since From Software's president Hidetaka Miyazaki confirmed Dark Souls 3's downloadable expansion The Ringed City was set to be the final chapter released for the Dark Souls series for some time, hundreds of fans have been wondering what's next for the renowned studio best known for introducing the gaming industry to Demon's Souls, Dark Souls, and Armored Core over the last few console generations.
The current running theory is that the answer to that question lies within Bloodborne 2, the rumored sequel to 2015's beautifully sculpted Lovecraftian experience available exclusively on Sony's PlayStation 4. So far, we've seen a leaked title screen for the game, and a few conversations regarding the resurgence of console popularity drawing Japanese developers (such as From Software) back to the platform. Bloodborne2 would be nothing short of phenomenal to see on a stage this year, but we'll have to wait until Sony's E3 conference to see if the rumors are true.
Super Smash Bros.
It's no secret that Nintendo's latest console has been a hit with gamers around the world, offering a fantastic solution for those who prefer playing at home on a television while also being able to take gaming on the go when required. There's been a solid lineup of games to enjoy so far, but as we get further into the year, the Switch's library isn't looking too promising.
Due to the success of Mario Kart 8 Deluxe on the Switch, as well as the recent announcement of Pokkén Tournament coming to the system, it's likely we'll see Nintendo reveal a complete edition of Super Smash Bros. for the Wii U coming later this year.
Pokémon Stars
Following Nintendo's relatively lackluster Pokémon Direct presentation on June 6 where the company unveiled Pokémon Ultra Sun and Pokémon Ultra Moon exclusively for the 3DS along with Pokkén Tournament heading to the Switch later this year, fans were disappointed the rumored Pokémon Stars* wasn't present in Nintendo's lineup of Pokémon announcements.
What's interesting though is that The Pokémon Company has already teased the presentation would be followed up by more "big Pokémon news" shortly after, although the post has since been removed and the link redirects to the website's main page. This could very well mean the announcement of Pokémon Stars — perhaps a Switch exclusive — is coming during Nintendo's main conference on Tuesday, June 13. Here's to hoping Nintendo doesn't disappoint.
Wolfenstein: The New Colossus
Since October of 2016, Bethesda has been dropping hints towards a sequel for MachineGames' Wolfenstein: The New Order, which was originally released in 2014. This modern take on the classic franchise wasn't the same massive success that DOOM was within the gaming industry, yet it inspired a whole new set of Wolfenstein fans thanks to B.J. Blazkowicz's hilarious dialogue and the game's excellent controls.
The biggest tease took place during Bethesda's E3 2016 when a mock cmd.exe screen flashed right before the Quake trailer was shown. This mockup included older games in the Wolfenstein series like Wolfenstein 3D, all of which led up to a property referred to as New_Colossus before moving on to DOOM. If Bethesda's Pete Hine's comment to KindaFunny is anything to go off, we're set to be in for a real treat if Wolfenstein: The New Colossus makes an appearance this year at E3.