iOS 11 Developer Beta is Out and It Has 5 Hints at Apple's Future
Has Apple let slip more than it meant to?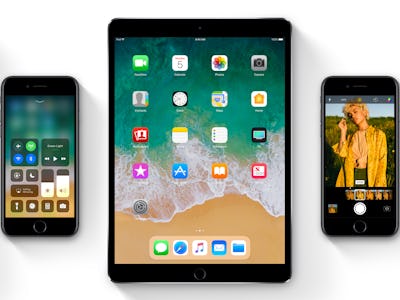 Apple
Apple's next iPhone software release may have slipped more about the company's future than it realized. iOS 11, announced on Monday at Apple WWDC and set to launch this fall, will be a free download for existing devices. New design choices and additions, though, suggest the company has big plans in mind.
A beta version released to developers has given the public the first sign of how Apple could keep the iPhone fresh, confirming previous rumors that future smartphones will feature a new display technology among other features. Here are five you need to know about to understand Apple's future.
"Smart invert" aka a good-enough "dark mode"
Apple has included a curious new option in iOS 11's accessibility features. There's a new "smart invert" option which, unlike the standard option that inverts all the colors on the display, does not flip the colors for photos and other media.
This is important because it suggests Apple has been exploring ways of making a "dark mode" without requiring developers to recreate their interfaces from scratch. A "dark mode" is expected to serve a critical role for the iPhone 8, a device expected to launch this fall with an OLED display. This technology switches off areas of the screen displaying a black, making elements appear as if they are floating on the device screen. The Apple Watch uses the same screen, and it's why watchOS uses a black-on-white design.
Bolder fonts
Along these lines, iOS 11 continues on from its predecessor by using thicker, bolder headers at the top of apps. Originally confined to the "Music" app, the new headers feature in almost every Apple-developed app. On an iPhone 8's OLED screen, these bold headers would create a stronger effect, illuminating the header more than a thin font would.
Smaller signal indicator
iOS 11 ditches the five-dot signal indicator, switching to a more traditional series of increasingly larger bars. This makes more sense when you consider the expected shape of the iPhone 8 screen:
See that little area of screen in the top left corner? The signal indicator could fit in that gap. Before, the dots would have taken up too much room to make this impossible.
Augmented reality kit
Apple CEO Tim Cook has suggested before that the company's future lies in augmented reality, and with iOS 11, the iPhone will take a major step toward this future. ARKit, a new set of developer tools, makes creating augmented reality apps easier than ever.
This bedrock could set the stage for a future set of augmented reality glasses. In January, it was reported that Apple was working with Carl Zeiss to develop a lightweight set of glasses that could overlay information onto a wearer's line of sight.
QR code scanning
The camera app in iOS 11 contains the ability to scan QR codes, which suggests the company still has ambitions to capture more of the market share in China. QR codes may seem like rather obscure in the United States, but in China, they're a big deal. People use them to exchange business cards, tip waiters and even send web links.
Apple has a solid footing in China, but it's recently slipped behind. Kantar Worldwide reported in April that the iPhone's market share now stands at its lowest level since July 2014, accounting for just 13.2 percent of smartphone sales in the three-month period ending February. iOS 11 shows Apple is still eager to make an impression.