Trump Spent 4:38 of His Infrastructure Speech Saying Hi to People
At one point, he waved at a boat.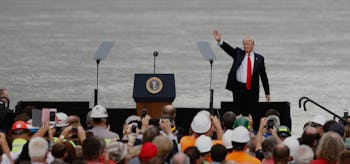 Getty Images / Bill Pugliano
Donald Trump gave a 30-minute speech on Wednesday, ostensibly to talk about his vague promise of a $1 trillion infrastructure plan and definitely not to distract from former FBI Director James Comey's news-making opening statement that came out the same day. During the speech, Trump also spent nearly five minutes saying hello and giving shoutouts to various people or things, including a group of executives from Land O' Lakes butter and the captain of a boat floating in the river behind him. He announced no new plans or policies regarding infrastructure.
Trump spoke on Wednesday afternoon in Cincinnati, Ohio, on the banks of the Ohio River, where a barge allegedly full of coal mined in West Virginia floated behind him. The speech marks the middle of the Trump Administration's "infrastructure week," but the President didn't shy away from discussing a wide range of other topics, including Obamacare, the recent arms deal with Saudi Arabia, and international terrorism, and the whos-who of his hard-hat wearing audience.
Eventually, though, Trump did get down to it. He lamented that the once-great U.S. built the National Interstate Highway System but that we "don't even do that anymore," and can't even fix our roads. To his credit, that's true, and the problem is only going to get worse. But unfortunately, he didn't say anything concrete about how he would address any of the multitude of infrastructure issues he brought up. Just like ISIS, he's going to fix things, but he can't say how.
Most politicians thank their hosts in a short preamble of a speech, but after some initial statements about his decision to pull out of the Paris Accords on climate change, Trump really ran down the guest list: Kentucky Governor Matt Bevin and his wife Glenna Bevin, Kentucky Lt. Governor Jenean Hampton, and Ohio Lt. Governor Mary Taylor (Ohio Governor John Kasich, a noted Trump critic, didn't show up, and Trump didn't mention him). Trump then shouted out a long as heck line of labor leaders, which is funny, seeing as the president's stance on unions has been overtly hostile to say the least.
But he wasn't done saying hi: around three minutes into the speech, Trump invited up two massive real-estate moguls ("two of the great builders of our country"), Steve Roth and Richard LeFrack to say something about building ("Do you fellas want to say something? They're not big talkers."), shaking their hands slightly off camera in a move that was clearly unexpected by pretty much everyone who organized, filmed, or attended the event. By the end of this, Trump had spent about 2:53 on hellos/ handshakes/ shoutouts/ guest speeches.
Trump talked on, speaking about insurance providers pulling out of Obamacare, the Saudi arms deal (including a shoutout to the King of Saudi Arabia, 5 more seconds of hellos), the coal industry, fighting terrorism, and how he's not a big fan of the Democrats in Congress not letting him have his way. Then, he turned around and waved at a boat for 10 seconds or so, saying "Hi Captain!"
Unfortunately, the news camera angles didn't include the barge, which made the whole interaction seem a bit strange. For reference, here it is.
That's a barge all right. It's possible Trump was hoping that the barge would toot its horn, which would have been cool, but no such luck.
Trump also spent 30 seconds or so giving Scott Pruitt, the climate-change-denying head of the Environmental Protection Agency a big shout out, and then said hellos to some very special audience members, the Land O' Lakes butter team (about 10 seconds of hellos).
All together, that's about four minutes and 38 seconds of solid shout-outs.