'The Mummy' Has an Easter Egg From Brendan Fraser's 1999 Movie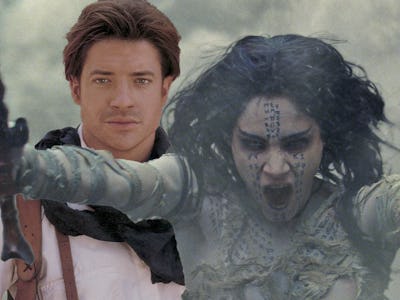 Universal Pictures 
The Mummy is the first installment in Universal Pictures' new shared universe about their classic monsters, so naturally, there are a lot of secrets to unwrap. While there are Easter eggs and shout-outs to movie history (and tantalizing teases of monsters from future planned movies), perhaps the most rewarding bit was seeing that The Mummy hasn't forgotten about the second Mummy reboot starring Brendan Fraser back in 1999.
Mild spoilers for The Mummy follow, but nothing too essential to the plot.
At one point in the film, stars Tom Cruise (Nick Morton) and Annabelle Wallis (Jenny Halsey) visit the secret London headquarters of Prodigium, the shadowy group dedicated to studying monsters lead by Russel Crowe's Dr. Henry Jekyll. The headquarters is full of relics and monster paraphernalia, including a severed hand of a Creature from the Black Lagoon in formaldehyde and a fanged vampire skull. The '99 Mummy doesn't get a shoutout until a little bit later, when Jekyll loses control and turns into Mr. Hyde.
As Mr. Hyde wails on Nick, Jenny tries to gain entrance into the room to assist him. A Prodigium employee who has seen Jekyll transform before attempts to stop her. The two scuffle, but eventually Jenny grabs a heavy book and knocks him on the head. There's a brief, brief shot of the book — and it's familiar. It's the Book of the Dead from the '99 Mummy, complete with a star-shaped lock.
It's a fun little nod to the middle child of Mummy movies, and one that's pretty easy to miss if you're not looking for it. As for the rest of the 2017 Mummy? Well, it's got plenty of fun moments and cool scenes, but there's a reason why one of the most exciting aspects of it was seeing a prop from the 1999 movie.
It's because Brendan Fraser is bae.
The Mummy premieres on June 9.