Universal's Monsterverse Isn't Called That Anymore, Which Is Dumb
'Bride of Frankenstein' will be the next entry in the "Dark Universe" after 'The Mummy.'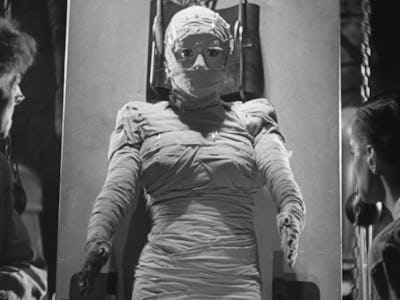 Universal just confirmed that Bride of Frankenstein will be the next spooky installment in their "Monsterverse," the shared cinematic universe starring all of the studio's classic monsters like the Mummy and the Wolfman. Also, Universal announced that it's not actually called the "Monsterverse." Instead, it's called the "Dark Universe," which is kinda lame, IMHO.
The studio announced the franchise's official name on Monday and shared a pretty exciting promotional video to go with it. The video features a montage of iconic moments from the original films like Dracula, The Creature From the Black Lagoon, Frankenstein, and more, all set to an intense new theme from composer Danny Elfman. The song will appear in The Mummy, and will be heard in future movies in the series after that, including, presumably, Bride of Frankenstein.
Is it a little strange that we're getting a Bride of Frankenstein before we get a Frankenstein? Maybe. On the one hand, it's pretty cool that the first two monsters in the series are a female mummy and the Bride. But, it's going to be interesting to see how Universal introduces a character who originally existed only in relation to Frankenstein's monster (who will be played by Javier Bardem) before properly introducing him.
Beauty and the Beast director Bill Condon has been snagged to direct the movie, which will premiere on February 14, 2019. It's unknown who will play the Bride, but Universal also shared an image of the already announced stars of the series, including Bardem, Russell Crowe (Dr. Jekyll), Sofia Boutella (The Mummy), Johnny Depp (the Invisible Man), and Tom Cruise's Nick Morton.
Watch the promotional video, which also features the new logo for the Dark Universe, below.
The Mummy hits theaters on June 9. Bride of Frankenstein will follow it up much later, in 2019, on Valentine's Day. A planned, untitled monster movie originally slotted for April of next year has been scrapped, Deadline reports.