How Would Trump's Solar Panel Border Wall Work?
He didn't give many details.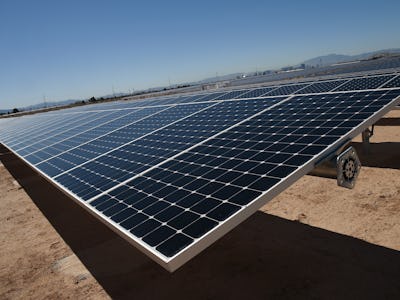 Getty Images / Ethan Miller
During a meeting on Tuesday with Republican leaders at the White House, President Donald Trump brought up the idea of covering his proposed border wall with solar panels to lower its cost.
Trump reportedly described the concept as a 40- to 50-foot-high wall coated in solar panels that would look like "beautiful structures." He hoped that the panels would generate enough electricity to completely pay for the wall.
How would the wall work?
Well, the Trump administration already has at least one blueprint to work from. Gleason Partners LLC submitted a solar border wall model to the White House earlier this year when the administration was soliciting design pitches. The company didn't publicize many details about it, but they did release this image:
Journalists are trying to estimate how much energy the solar wall might generate based on Trump's sparse description.
For reference, one gigawatt can power Walt Disney World for about 17 days (and Marty McFly's time machine, nearly).
Reports don't indicate that Trump specifically explained how the solar wall would pay for itself. If the energy is used to power towns, businesses, or anything remote, the wall would also need transmission lines. Let's hope he doesn't want the wall itself to be electric.
The solar panel wall is only a suggestion — for now — but it's still an abrupt ideological reversal for President Trump, who has consistently shown apathy toward renewable energy investment, including its jobs-generating benefits. Solar energy was nowhere in Trump's "America First Energy Plan," and his proposed cuts to the Energy Department could slow down solar energy cost-cutting efforts and research.
Only time will tell whether this is a serious proposal from Trump or just another idea he'll walk back on.