SpaceX Fails in Last-Ditch Effort To Have Lawsuit Tossed Out
It's up to a jury to decide if SpaceX wrongly fired an ex-employee.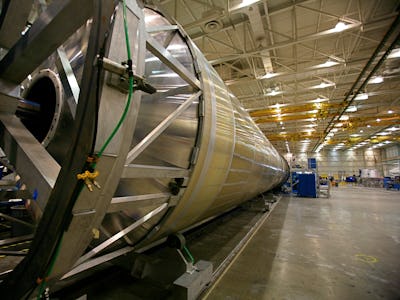 Flickr / jurvetson
Did SpaceX really fire an employee because he wouldn't falsify test data on manufactured rocket parts? That's the question at the heart of an ongoing lawsuit which has embroiled the Hawthorne, California-based spaceflight company. And it looks like it will be up to 12 angry men and women to decide SpaceX's fate, after the company failed in its bid to have the case thrown out of court right before closing arguments finish up. It will be up to a jury to decide whether SpaceX is guilty of wrongful termination or not.
On Monday, Los Angeles Superior Court Judge William Fahey said there was "just enough" evidence for a jury to decide the case, according to Law360, rejecting SpaceX's motion that the suit be dismissed due to a lack of sufficient evidence.
To recap: former SpaceX technician Jason Blasdell says he lost his job after four years in April 2014 because he raised concerns about problems he noticed in the manufacturing testing protocols for Falcon 9 rocket parts. Blasdell says he brought these problems up in discussions with his superiors but was rebuffed at each turn. At one point, company president Gwynne Shotwell sat down with Blasdell, who says her only response was, basically, "Don't tell Elon," referring to SpaceX CEO Elon Musk.
Blasdell also says he and other technicians were pressured to outright falsify manufacturing tests in order to make sure the company was on track to meet the launch schedule exceptions set during his tenure, seemingly due to SpaceX's bid to garner a contract under NASA's Commercial Crew Program to send astronauts to the International Space Station. SpaceX (along with Boeing) ended up winning that contract.
Blasdell says the problems he observed in the manufacturing testing could lead to catastrophic problems for future SpaceX rockets, including those set to carry people into space.
SpaceX's lawyers have spent the trial countering that Blasdell was not fired because he raised unwanted concerns, but rather because his performance was on the decline, and his behavior was becoming increasingly erratic and problematic for his colleagues. They argue that Blasdell's testimony does not describe falsification of test data or any sort of cover-up, but simply a disagreement with how the company was operating.
"My argument is not that there's insufficient evidence but that the evidence very clearly out of the plaintiff's own mouth was that SpaceX did not have a knowing intent to defraud," said SpaceX lawyer Lynne C. Hermle. She argued that evidence of false data was not presented at the trial.
Judge Fahey disagreed, noting that the test results were stored in SpaceX's system. Even results indicating failures meant the company's customers, including NASA, could be lied to. "With respect to the availability of test data to the customers, well, I've prosecuted dozens of cases where the evidence showed it was available, but it was still falsified," Fahey said. He also emphasized that Blasdell testified witnessing four other technicians falsifying data.
SpaceX rested its case on Monday, and closing remarks are set to follow.