Vaping Not As Bad for You as You Might Have Heard
Vape like normal to not worry about formaldehyde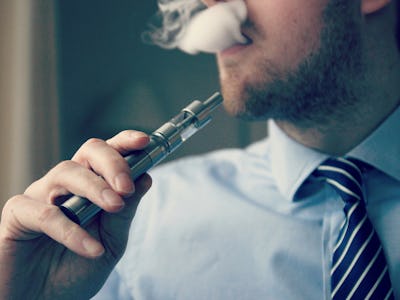 vaping360.com
Vapers should rest a little easier, thanks to a new study clarifying the amount of formaldehyde produced while vaping. Despite a previous paper in the New England Journal of Medicine — which got a fair bit of media play in January — recent research indicates you shouldn't worry about formaldehyde if you vape at a low, pleasant-tasting voltage.
Dr. Konstantinos Farsalinos, a Greek cardiologist who published a study Thursday in the journal Addiction, aimed to course-correct the narrative. He had seven vapers puff four times at various power levels — 6.5, 7.5, 9, and 10 watts — with third-generation e-cigarettes (two Kayfun Lite pluses, with differently sized-wicks). By trapping the emitted aerosol, Farsalinos and his colleagues could measure the amounts of aldehydes in each puff. Using a thin-wicked e-cigarette at 9 and 10 watts resulted in highest levels of formaldehyde (up to 250 times the other conditions) — but also unpleasant dry puff sensations, which experienced vapors avoid. Under normal conditions, vapes produced a maximum of 11.3 µg of formaldehyde; to exceed World Health Organization limits for exposure, the researchers calculated this would mean more than 2000 puffs a day.
No one is suggesting that consuming tobacco is great for your body, and studies are still trying to tease out the health effects of e-cigarettes. That being said, if you're going to smoke, science suggests you vape. Peter Hajek, a clinical psychologist at Queen Mary University of London, agrees. "Vapers are not exposed to dangerous levels of aldehydes," said Hajek, commenting on Farsalinos' research in a press release. "My reading of the evidence is that e-cigarettes are at least 95% safer than smoking. Smokers should be encouraged to switch to vaping."
Members of the Food and Drug Administration seem on board, too. "If we could get all of those people [who smoke] to completely switch all of their cigarettes to noncombustible cigarettes," Mitch Zeller, director of the Center for Tobacco Products, said at a hearing earlier in May, "it would be good for public health."
Photo credit from vaping360.com.