Here's How the Catholic Church Responded to 'The Keepers'
"We offered from day one to provide any responses to any questions that he had."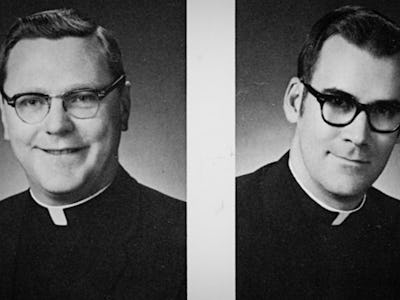 Netflix
On May 19, Netflix released its latest true-crime documentary series, The Keepers, which introduced the world to the potential corruption at the Catholic, all-girls Seton Keough High School in Baltimore, and allegations of sexual abuse and cover-up against the city's Catholic Archdiocese. Particularly, the series focuses on the 1969 murder of Sister Cathy Cesnik (a teacher at Seton Keough), the potential reasoning behind her murder, and accusations of a "sex ring" led by Catholic priest Father Joseph Maskell at the school. None of the accused abusers or murder suspects have ever been formally charged with wrongdoing, but the Archdiocese of Baltimore has, as expected, had quite a bit to say about The Keepers.
The Archdiocese took a firm stance against The Keepers from the beginning, repeatedly tweeting from its official Twitter account, using hashtags such as #TheKeepersUntold and #TheKeepersTruth. The church's official Twitter account also tweeted, at one point, "We don't dispute the abuse committed by Fr. Maskell, but The Keepers premise & conclusion are wrong." And as reported by BuzzFeed, The Keepers director Ryan White took a screenshot of a particularly controversial Archdiocese's tweet — one using emojis and the phrase "SPOILER ALERT!" — before it was deleted.
"When you flippantly brag about the violent abuser's DNA sample," White wrote, "you continue to hurt survivors. Sickening #thekeepers #wehearyou."
While the Archdiocese refused, at first, to comment when prompted by BuzzFeed, it eventually relented. Sean Caine, the director of communications at the Archdiocese, said, "Obviously, as complex of a story as this is, it's not really ideal to play out on social media," but "the suggestion that the archdiocese didn't do everything it could to corroborate the initial allegation in '92 by Jean Wehner is really unfair. We invested hundreds of hours, we hired a private investigator, we interviewed former students, former faculty members, people in the community."
When asked about the Wehner family's letter-writing campaign — after Maskell was returned to a parish — that turned up "dozens" of other abuse victims willing to share their stories, Cain said: "Most people looking at it objectively would say, 'How hard did you try if these people were able to do it on their own?' My answer would be, 'Thank god they did, thank god the people who came forward did come forward,' because it eventually led to Maskell's removal, and hopefully it saved a lot of other people from being potential future victims."
And as for why the church denied participating on camera in The Keepers, a fact that many online have speculated about, Caine said, "Even though we chose not to do an on-camera interview, I communicated with [White] directly — we offered from day one to provide any responses to any questions that he had. And initially, they said, 'No, if you can't go on camera, we're not gonna include you.' And then at the very end of production, they sent us the list of six questions." Those six questions and the provided answers are featured at the end of Episode 7, the season's final episode.
If you find yourself wanting more from the Archdiocese, its website has a list of FAQs available here.
The Keepers is now available to stream on Netflix.