Colleges Are Struggling to Teach Critical Thinking, Tests Show
A national test shows little growth among students.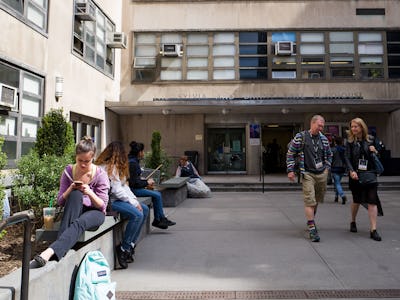 Getty Images / Drew Angerer
At a time when many are debating the value of a college degree, a new test shows that colleges are failing at even the basic task of teaching critical thinking.
The Wall Street Journal analyzed results of the College Learning Assessment Plus (CLA+) test from 100 colleges and universities across the country and found that a large number of students display little or no improvement over four years. It also showed that many seniors were graduating with subpar skills in this crucial area. "At more than half of schools, at least a third of seniors were unable to make a cohesive argument, assess the quality of evidence in a document or interpret data in a table," the Journal reports.
The CLA+ is given to a group of freshman in their first semester and then three years later to another group of seniors from the same class in their final semester. It's designed to test for things like analytical reasoning and critical thinking and requires students to utilize sources — like scholarly articles or newspaper pieces — to build or critique an argument. In short, it measures the skills that most, even college's detractors, would likely agree is the primary universal benefit of a college education, regardless of individual discipline. Only it seems that benefit is not so universal.
In the worst cases, like The University of Louisiana at Lafayette, the senior score was actually worse than the freshman score. As freshmen, students from the University averaged a score of 994. By the time they were seniors, the score was 962. 48 percent of seniors were measured to have "below basic" skills, and 29 percent were scored at "basic," hardly what one might expect after four years of college education.
Perhaps unsurprisingly, the colleges that have been most powerfully indicted by the tests results are not fans of this method of evaluation. The University of Louisiana at Lafayette, for example, says it's not giving the test anymore because it doesn't accurately reflect the rigor of its curriculum.
It's not all doom and gloom for colleges, though. Some, like Plymouth State University, showed significant improvement in students' abilities. 40 percent of Plymouth freshmen were scored "below basic," while only 6 percent of seniors were in that category. Even so, Plymouth's success does seem overshadowed by the overall inefficacy that the CLA+ puts on display.
Also worth noting is the fact that all the schools on this list, whose test results were shared, are public universities. There's no information on whether prestigious private schools, like Harvard and Yale, or small liberal arts schools, like Williams and Wesleyan, might perform. Proponents of such institutions would likely say that they'd be stronger. For college's detractors, it's all one and the same.
Read the full Wall Street Journal report here.