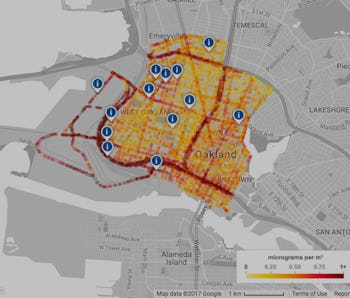 Innovation
Even Air Pollution Can't Hide from Google's Street View Cars 
These are some of the most detailed maps of air pollution yet.
Air quality data from Google/Aclima; analysis by Apte et al/EDF
Streets aren't the only thing Google can map.
The company announced its Street View team has been using its fleet of sensor-laden mapping cars to track air quality. The results, released Monday, reveal the concentrations of three major air pollutants in Oakland. But the project, a joint venture with the Environmental Defense Fund and environmental sensor company Aclima, doesn't just provide high-level city data. It tracks the pollution block by block, where people are living and, well, breathing.
The fine details — which have 100,000 times higher resolution than government data — are already providing some interesting, if rather intuitive, environmental insights.
Namely, highways are gross. They're stained blood red on every one of the three pollutant-specific maps, indicating a big build up of pollution from the traffic. But zooming in closer, the team found that a lot of playgrounds and homes are cloaked in these pollutants, too. That's concerning, because all three pollutants are known to cause negative health effects and can be especially damaging for children and other vulnerable populations.
Nitric oxide, for example, is the stuff behind acid range and causes a whole host of respiratory issues. Nitrogen dioxide also worms its way into the lungs. And exposure to black carbon is associated with heart attacks, stroke, and even some cancers.
See also: A Day of Beijing Air Can Be Deadlier than 40 Cigarettes
Google, which in March announced it is also tracking greenhouse gas emissions, isn't the only organization seeking to turn vehicles into super-censors for smart cities.
In May, MIT's Senseable City Lab announced it had hooked five Cambridge, Massachusetts dump trucks up to the Internet of Things. Similar to Google's project, the dump trucks have air quality sensors, infrared cameras to identify energy leaks, and accelerometers to measure traffic.
While the research is exciting — and, Google says, among the largest data sets of its kind ever created — the real work to track and combat air pollution on a large scale is just beginning. The Environmental Defense Fund said in a statement it wants to parlay this data into an analysis of the actual health effects of this pollution among residents on the ground. And many are hoping that technology currently used in the Google or MIT's backyards can be taken to cities struggling with air pollution problems around the world.