A $50 Million Race Is on to Build the American City of the Future
Here's how the federal government wants to prepare American cities the future.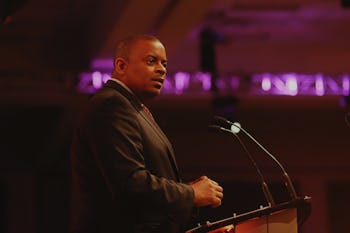 Getty
The future lies in megacities, with 70 percent of the world's population predicted to live in urban areas by 2050. And the federal government seems to be prepared for the boom with a big pile of cash: Today, the Department of Transportation announced a $50 million contest to make cities smarter.
The "Smart City Challenge will award $40 million to mid-sized cities that can "implement bold, data-driven ideas by making transportation safer, easier, and more reliable."
Besides the $40 million awarded by the government, the winning city will get up to $10 million from Microsoft co-founder Paul G. Allen's Vulcan, which grants money to "professionals who are innovative, agile and able to perform at the highest level."
"Our national vision for transportation is still very much constrained by 20th-century thinking about technology," Transportation Secretary Anthony Foxx said in a conference call announcing the contest. "We are imagining connected and autonomous vehicles that practically eliminate crashes. And we are imagining this technology interacting with wired infrastructure to eliminate traffic jams as well."
Saying the country was influenced around a "bottom-up" transportation system, U.S. Transportation Secretary Anthony Foxx called the contest a way to take advantage of country's urban labs.
"This is a conversation about what out cities should look like in future," Foxx said.
Challenge pitches must be entered by February 4, 2016, with five finalists announced in March 2016. Cities will have to show how advanced data and technology will reduce congestion while keeping travelers safe and supporting local economies.
A White House blog post announces that the contest could help drive private sector innovation, especially as tech companies have already focused on autonomous cars.
The post notes that innovations could include tech to interact with connected vehicles "that can talk to each other or the surrounding infrastructure, smart sensors, and self-driving cars, as well as the partnerships cities can mobilize to pilot these technologies at scale.
Here are the rules:
· Mid-sized city with a population between approximately 200,000 and 850,000 people within city limits, as of the 2010 Census
· A population density typical of a mid-sized city using 2010 Census data
· Represents a significant portion (more than 15 percent) of the overall population of its urban area using 2010 Census data
· An established public transportation system
· An environment that is conducive to demonstrating proposed strategies
· Leadership and capacity to carry out the demonstration throughout the period of performance
Foxx spoke in broad terms during the announcement, saying that the entries would not favor drones or autonomous vehicles or proposals that cut down on climate change emissions.
Entries could also be for proposals already underway — Seattle's light rail expansion plan, for instance — and will require no matching funds from the winner.