Apple's watchOS 4 is the A.I.-Powered Life Planner On Your Wrist
The new Siri watch face wants to make your life simpler.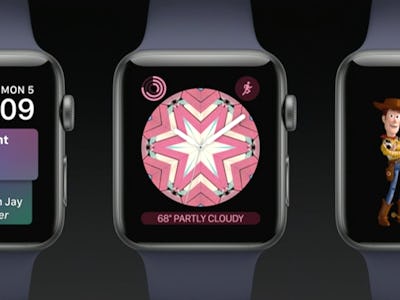 Apple
The Apple Watch is about to get a whole lot smarter. At the company's annual Worldwide Developers' Conference on Monday, Apple unveiled the fourth version of watchOS, which features a brand new Siri watch face powered by artificial intelligence.
The new watch face uses machine learning to determine what information is most relevant to you. A card-based interface shows a timeline of snippets, with the one you're most likely to need at that stage front and center when you raise your wrist. These cards can include reminders, flight boarding passes, sunrise/sunset, smart home controls, or current movement stats.
Apple's previous watchOS release made it easier to access vital information, and the upcoming version, set to be released in the fall, looks to continue this trend. The app dock returns, accessed by pressing the side button, but it now works on a vertical scrolling system that means users can twiddle the digital crown to quickly scroll through apps.
Siri isn't the only option for a new watch face. Apple also demonstrated a trippy new kaleidoscope watch face, an artistic design sure to appeal to creative wearers. Apple also showed new Woody, Jesse and Buzz watch faces, based on the Toy Story characters, to complement the existing Mickey and Minnie Mouse watch faces.
The new version also opens up Apple Watch development further, enabling Bluetooth data transfers between third party devices. Suggested uses include glucose monitoring and racket stats during a tennis match.
Apple has also partnered with a number of gym equipment manufacturers to enable simple data transfer, meaning stats like calories will appear the same on both devices. Using NFC connectivity, users can tap their watch on equipment to start syncing. The feature, set to roll out in the fall, will work on 80 percent of equipment.
Apple will launch a developer beta of watchOS 4 on Monday, with a free update for consumers rolling out later this fall.