Apple Announces Date for Its First-Ever TV Show
Set your iTunes for August 8.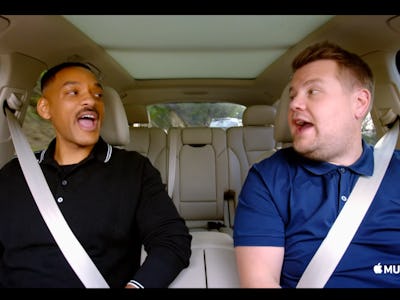 Carpool Karaoke, Apple Music's first venture into original "television" programming, is coming on August 18 according to a tweet from iTunes head Eddy Cue. The spun-off segment from The Late Late Show features famous musicians singing along to their own music while carpooling to work with the show's host. Having featured guests as diverse as Metallica and Michelle Obama, it's considered one of Apple's biggest bids to build some momentum in the unforgiving modern world of internet television.
"Excited to roll out #CarpoolKaraoke: The Series on @AppleMusic — Coming August 8!," Cue announced via Twitter.
The segment is normally hosted by The Late Late Show's James Corden, but on Apple Music's version guests will drive with a diverse array of hosts changing episode to episode. Corden will be one of them, and appear at least twice.
Apple announced this month that celebrity pairings will mostly feature a musician along with a comedian to keep things interesting. Make sure to look out for Will Smith, Alicia Keys, Shakira, Game of Thrones stars Sophie Turner and Maisie Williams, the entire Cyrus family, and more.
Apple was originally supposed to air Carpool Karaoke in April, but delayed the show for undisclosed reasons, and stayed mum on the topic until Cue's announcement today.
This project shows Apple's ongoing efforts to capture the millennial audience, along with other upcoming Apple Music programs like Planet of the Apps, a reality show about app developers. Apple has also said that it plans to launch narrative, scripted shows by the end of 2017, and perhaps even feature films.
Carpool Karaoke is actually being developed for Apple Music by CBS, one of the oldest television networks. That's important in a world where Netflix has set the bar for new entrants precisely as high as the established television networks and film studios have ever been able to set it, themselves.
And don't worry, just because there seems to be a conflict: The Late Late Show will still run its segments with host James Corden, as per usual. For existing fans, this should basically mean twice as much of the bit that they've come to know and love.