Trump Will Show Late Night Hosts for Who They Are
To normalize Trump, or to not normalize Trump?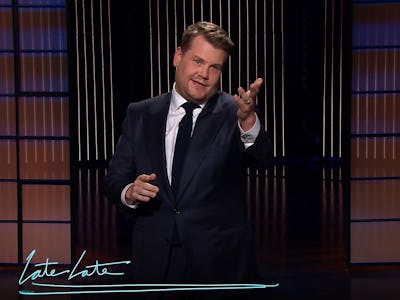 CBS
Michelle Obama's Carpool Karaoke segment was filmed before Melania Trump plagiarized her speech at the Republican National Convention, but the First Lady presciently spat, "copywritten so don't copy me," with Missy Elliott herself singing backup. When the video went up on The Late Late Show with James Corden YouTube page, it was instantly everywhere. The sly, winking joke that leans toward confrontation while avoiding it is a staple of Corden's comedy; he's maintained a British sitcom sensibility. Corden's style of comedy is easy to pull off when those in power are in on the joke. But, faced with a polarizing First Family, Corden will have to decide where he wants his carpool to go. Like other traditional late night hosts, he is now navigating normalization, a difficult task even without pressure from network brass.
Audiences who turn to traditional late night programming to escape the stresses of their day will inevitably get exhausted hearing about every single one of Trump's indiscretions, the pile-on of post-election scandals is without historic precedent. But not commenting on Trump's political brinkmanship will be next to impossible for comedians on television four or five nights a week. And ignoring Trump is arguably irresponsible since his embrace of the white nationalist movement. As late night hosts wrestle with that challenge, they'll self-sort over the the first year of Trump's presidency and show audiences what they think their jobs really are: Are they there primarily to entertain or inform?
James Corden's show is set up to entertain. Segments are, first and foremost, engineered for internet virality. Michelle Obama's Carpool Karaoke has 47 million views and the show's YouTube page has exceeded 2 billion. Airing on CBS places specific pressures on the show, notably strict network standards, and the need to fit in with an inoffensive lineup that caters to an older demographic. Disinterested in journalism, Corden will most likely stick to what's clearly working for him. He opened his first post election show with, "No matter who you voted for, you all got stickers," an innocuous joke that sympathized with as many viewers / voters as possible. A recent show (two weeks after the election) made jokes about the horror of a Trump burger that Russian Burger Kings are allegedly selling. It did not touch on policy.
Corden does occasionally try to push himself and his audience with attempts at political humor. After a string of jokes about Trump and the former Bush administration two weeks after election flopped, Corden asked his audience, "Did you all just get off the bus from a Republican convention?" It wasn't that the jokes weren't funny, it was that his audience wasn't use to hearing them from him. They were used to hearing those jokes from his predecessor, Craig Ferguson, who was an immigrant and chose to become a citizen of the United States. Ferguson was passionate about America, and often spoke about politics on the show and with his guests. Corden could go that way if he so chose, but there's little reason to believe he will.
Jimmy Fallon is a bigger name, but he's in the same boat as Corden. Having shared the "Weekend Update" desk with Tina Fey during the first term of George Bush's presidency, Fallon has the chops to hone in on Trump's hypocrisies. But Fallon, who now trades in likability, opened his first post-election show on the opposite note, saying, "My job is to come out here every night and try to make you laugh and take your mind off of things for awhile." While the sentiment was sincere, Fallon has a few other reasons to avoid politics. He was widely criticized during the campaign for normalizing Donald Trump in a now infamous interview in which the host plays with Trumps hair. The crowd liked the bit. The left didn't.
While he has the background to tackle political issues, like Corden's audience, Fallons doesn't really seem to want to go there with him. The audience of The Tonight Show was built over 21 years by Jay Leno (with a brief seven month interlude starring Conan O'Brien) who prided himself on the fact that, "No one could ever figure out my politics when I was doing the show because we tried to go kind of kind of right down the center. It seems unlikely that Fallon will jeopardize such a loyal fanbase in the name of educating his audience.
There are, however, a few network hosts, like Stephen Colbert (The Late Show with Stephen Colbert) and Seth Meyers (Late Night with Seth Meyers), primed to push the limitations of bland corporate brands to inform their viewers while also entertaining them.
Meyers opened his first post-election show with direct digs at Trump's misogyny. "Well that was a real grab in the pussy," he griped. "And I'm sorry to use foul language like that, but last I checked, the electoral college seems to be fine with it." Meyers also dedicates an entire recurring segment called "A Closer Look," to explaining and satirizing political issues. One about Trump's fraud settlement and the Hamilton controversy ran 12 minutes, an unprecedented block of time to dedicate in the traditional late night format to politics. Meyers wields his "Weekend Update" experience expertly, using humor to point his audience towards things they should be more educated about without coming off as condescending. Meyers is determined to inform as well as entertain and ironically, it might be Jimmy Fallon's more neutral take — both as the previous Late Night host, and now as the 11 p.m. lead in on The Tonight Show — that gives him the room to do exactly that.
After his audience booed his first use of the term President Trump, Stephen Colbert said, "I want to just keep saying it until I can say it without throwing up in my mouth a little bit." As a former Daily Show correspondent who then helmed his own satirical show, Colbert has declined to treat Trump like a regular politician. He's doggedly pursued a man he feels is unqualified, even hosting an election night special on CBS sister channel Showtime, where he could take off the leash. This is a pretty significant departure from the show's only other host, David Letterman, who defended accusations of bias by saying, "A case could be made we are leaning one side than the other, but it's not driven by anything other than who's easier to make fun of." It's clear that CBS is not interested in wasting Colbert's immense talent, especially with James Corden around for viewers who are perhaps looking for more of an escape.
Colbert, Meyers, and other hosts who have even fewer network pressures and key demos to hit, will keep using any leeway they have to their advantage, though to what effect we can't know yet. As late night comedians struggle to both entertain and inform, theyll find themselves more and more stratified as Donald Trump's presidency wears on. It's a Herculean feat to not normalize a man while commenting on him daily. Trump is also a unique figure; the country has never before had a president whose main qualifications were a reality show and a virulent Twitter following. It's now up to late night hosts to decide whether they'll normalize one of the most polarizing presidents in American history. Are they engaging their audience about the future of America? Or are they simply the laugh track their audience falls asleep to at night?