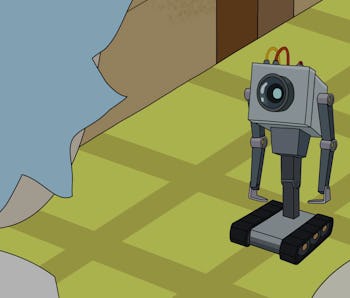 Entertainment
Watch the Butter Robot From 'Rick and Morty' Fight to the Death
Maybe he should stick to butter.
'Rick and Morty'
If you've ever dreamt of seeing a giant version of the "pass the butter" robot from Rick and Morty fight a tricked-out Roomba with a Fidget Spinner to the death, then you're in luck. That's almost exactly what went down at RoboGames 2017.
Micah "Chewy" Leibowitz of Team Tiki built a 120-pound scaled version of the Butter Robot from Rick and Morty as his fighter in the contest hailed as the "Olympics of robots." Its left arm, however, is equipped with a flamethrower, which seems like it would be seriously detrimental to the robot's butter-passing abilities.
The original "Butter Robot" was a small, mobile robot Rick Sanchez created in the opening to "Something Ricked This Way Comes." After Rick confirmed that its sole purpose was to pass butter, the sentient bot replied, "Oh my god."
It's notably not the first time someone has made a version of Butter Robot in real life, because redditor andredotcom 3D-printed one back in November 2016. We're willing to bet that Chewy's 120-pound version would win in a fight between the two
To see how it fared against Roomba-Fidget Spinner (not the real name, by the way), check out their battle here:
There's no confirmed release date for the rest of Rick and Morty Season 3, but it will almost certainly feature Pickle Rick and a robotic version of Rick fighting rats.