Someone Made a Real Existential Butter Robot From 'Rick and Morty'
"Yeah, welcome to the club."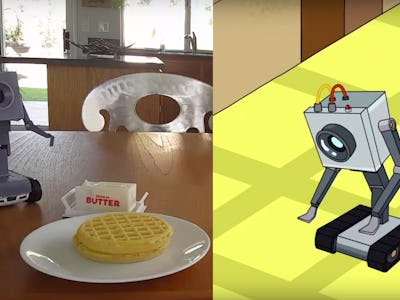 ESDEV/YouTube/Williams Street
The interdimensional romp Rick and Morty goes to some dark, heavy places, but one of the most heartbreaking, yet morbidly hilarious, characters on the show was the robot that Rick created solely to pass butter. When the little bot gained sentience and learned what it's unimportant purpose was, it fell into an understandable existential depression. Well, now some sadistic genius has created a real-life butter robot.
The robot made its only appearance in the Season 1 episode "Something Ricked This Way Comes," but it made enough of an impression on Redditor Andreddotcom to recreate it IRL. The real-life Rick 3D printed the body of the robot and placed it atop an "i-spy Mini Wireless Wifi App-control Spy Tank RC Car," allowing it to move around just like the cartoon, and, yes, pass the butter.
This robot is apparently just a test run, since Andreddotcom admitted that he took a few shortcuts to bring the robot to life (a miserable, pointless life of passing butter), but said they'd post video instructions in the coming days so that other fans could make their own.
Having a depressed robot that just passes butter would probably make your life a little bit easier while you wait for Rick and Morty to coming back for a third season. The premiere is supposed to air sometime in the next two months.