Five Questions Apple Needs to Answer at WWDC 2017
Tim Cook has a lot of pressure on him.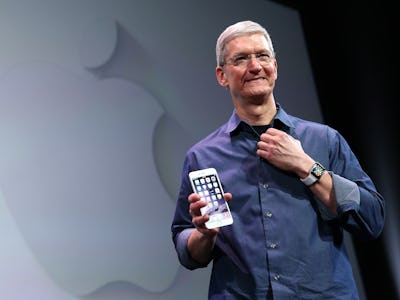 Getty Images / Justin Sullivan
Apple is taking to the stage next Monday, with its annual Worldwide Developers Conference starting with a keynote speech from CEO Tim Cook. The company is likely to unveil new operating system versions for the Mac, iPhone, Apple Watch and Apple TV, but this is no ordinary year. Questions are circling around what Apple's future strategy is for these platforms, and how it can keep consumers interested after all these years. Here are five big questions Cook will need to answer:
What's Apple doing with Siri?
No really, what's going on? Since the personal assistant launched on the iPhone 4S back in 2011, it's made modest steps toward becoming a more useful addition. It now supports limited commands for third-party apps, you can now invoke it by saying "hey Siri," and it made its way onto the Mac last year.
A Bloomberg report on Friday suggested Apple plans to reduce Siri's dependence on the cloud by making a chip dedicated to on-device artificial intelligence. This would allow Siri to interpret commands on the phone, and could give the feature a leg up over competitors like Amazon Echo and Google Home. If the company does release an Echo-like speaker, as recent rumors suggest, it's going to need something to make Siri a little smarter.
What's the future of the Mac?
Apple's approach to the Mac has felt somewhat confused at times. Mac OS X Lion brought a number of iOS features like fullscreen mode and auto-save to the Mac, and it seemed the company was attempting to harmonize the two platforms. But the Mac App Store, another feature inspired by iOS, has been shunned by developers due to its rigid design that doesn't allow for more complex pricing structures. Six years on, it feels like a missed opportunity.
The question is whether Apple continues bringing iPhone features over to the Mac, or whether its next release will chart a distinct course that paints a better picture of where the Mac is headed. Tim Cook has expressed an interest in augmented reality, and there's plenty of other areas where the added computing power of the Mac could enable more impressive features than the iPhone. Apple is like to unveil the next operating system update on stage next week, so hopefully we shall find out more.
What will iOS 11 look like?
The Bloomberg report also noted that, when Apple's next mobile operating system is unveiled at the conference, it will sport a new user interface. iOS 10 brought a raft of changes, including more pronounced notifications and a redesigned Music app, so it will be interesting to see what other changes Apple decides to make.
How can Apple make the watch more useful?
The launch of the Apple Watch Series 2, as well as watchOS 3, shows the company is positioning the device as a fitness tracker above all else. It's a logical move, as the device's heartbeat sensors make it an excellent way of keeping track of daily activity.
For the next version of watchOS, Apple will need to work within the confines of a device that's not meant to be used for long periods of time. With the most recent version of watchOS, Apple moved around features to make it easier to access them at a moment's notice. Unlike iOS, the company won't be able to throw on new features and expect people to find them. There's a balancing act involved that doesn't quite exist in the same way on Apple's other platforms.
Is Apple still interested in home gaming?
The company made some interesting steps toward the living room with the fourth generation Apple TV in 2015. The streaming device supports a limited number of video game controllers, and through its App Store some developers have ported games like Minecraft and Octodad to Apple's sort-of console. tvOS 11, likely to be unveiled at the show, will be a chance for Apple to demonstrate its support for future gaming on the device, possibly by offering better support for multiple players or online gaming.