Who is TigerSwan: The DAPL Security Firm That Spied on Protestors
The company compared water protectors to jihadist fighters, according to Intercept report.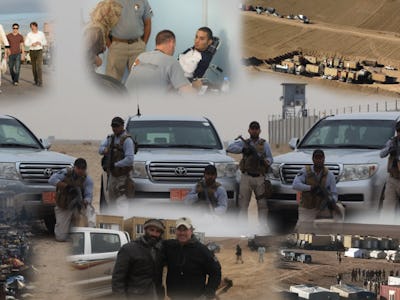 In 2016 the company building the Dakota Access Pipeline hired an international security firm called TigerSwan to target and surveil anti-pipeline protestors. Newly released documents published by the Intercept outline the extreme measures TigerSwan took to disrupt protests and collude with law enforcement.
Energy Transfer Partners reportedly hired TigerSwan to use military-style tactics on protesters of the pipeline project, based on the company's own internal documents and company communications obtained through a public records request by The Intercept.
Within the documents, TigerSwan — originally a U.S. military and State Department contractor employed to counter the war on terror — continually refer to anti-pipeline protests as an "insurgency", comparing them to jihadist fighters.
Drawing comparisons with post-Soviet Afghanistan, the report warns, "While we can expect to see the continued spread of the anti-DAPL diaspora … aggressive intelligence preparation of the battlefield and active coordination between intelligence and security elements are now a proven method of defeating pipeline insurgencies."
Repping the slogan, "Solutions to Uncertainty", TigerSwan is a vast for-hire security firm with offices in Iraq, Afghanistan, Jordan, Saudi Arabia, India, Japan and Latin America. Their website lists the kinds of services they provide, which include "Oil Field Safety and Security".
According to the Intercept, the firm was created during the Iraq war to compete with companies like Blackwater during a boom in the private security and intelligence industry. It was started by retired Army Col. James Reese, a former member of an elite American special ops unit called Delta.
The documents detail massive amounts of surveillance performed by TigerSwan on anti-pipeline activists and Standing Rock camp residents. Hired by Energy Transfer Partners, they conducted aerial surveillance, radio eavesdropping, social media monitoring and infiltrated protest camps. Intelligence gathered by TigerSwan was also shared with law enforcement, including the North Dakota Attorney General's Office.
They apparently also aided state prosecutors who were building legal cases against DAPL protestors.
According to an October 16 document obtained via a records request, the security team's responsibilities included collecting "information of an evidentiary level" that would ultimately "aid in prosecution" of protesters.
TigerSwan also kept track of dozens of individual DAPL opponents, with databases that included identifying information such as photographs and license plate numbers, as well as a "persons of interest" list.
The group even appears to have dabbled into fake news, releasing a "counterinformation campaign by creating and distributing content critical of the protests on social media," according to the report.
The Intercept has published three sets of "situation reports" from TigerSwan, which detail the organization's operations against protestors. They intend to release more in the coming weeks.