Trump Makes U.S. Only G7 Nation to Delay Decision on Paris Accords
Angela Merkel is not stoked.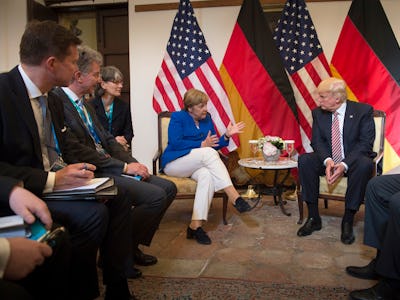 Getty Images / Handout
Following three days of private debate among G7 leaders in Taormina, Sicily, President Donald Trump announced Saturday that he would be proroguing his decision on the Paris Agreement until next week.
Trump's blunt announcement, via Twitter, came right before the other six G7 nations released a statement affirming their intention to continue to combat global climate change through lower emissions targets.
The United States of America is in the process of reviewing its policies on climate change and on the Paris Agreement and thus is not in a position to join the consensus on these topics. Understanding this process, the Heads of State and of Government of Canada, France, Germany, Italy, Japan, and the United Kingdom and the Presidents of the European Council and of the European Commission reaffirm their strong commitment to swiftly implement the Paris Agreement, as previously stated at the Ise-Shima Summit.
As neutral as that sounds, German Chancellor Angela Merkel told reporters on Saturday that the conversation with the U.S. on climate change left much to be desired.
"The entire discussion about climate was very difficult, if not to say very dissatisfying," Merkel said, according to Reuters. "There are no indications whether the United States will stay in the Paris Agreement or not."
Trump has been viewed as against the Paris accords from the start, vowing to opt out back when he was on the campaign trail. Signed by President Barak Obama in December 2015, the Paris accords require the U.S. to cut its greenhouse gas emissions by a minimum of 26 percent by 2025.
On Friday, Trump's chief economic adviser Gary Cohn said that the accords weren't yet dead in the water. "I think he is leaning to understand the European position," Cohn told reporters. "Look, as you know from the U.S., there's very strong views on both sides."
"So he knows that in the U.S., there's very strong opinions on both sides, but he also knows that Paris has important meaning to many of the European leaders. And he wants to clearly hear what the European leaders have to say."
Now that he's heard it, it remains to be seen how the G7's interests will weigh against Republican viewpoints on climate change back home.