What's Up With 'Master of None' Season 3?
Aziz: "Let me just live my life."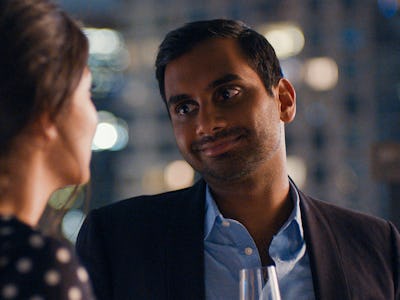 Netflix
Aziz Ansari has had a busy 2017 thus far, beginning with hosting Saturday Night Life the day after Donald Trump was inaugurated as president. And then in May, Season 2 of Master of None, his wonderful Netflix original series, debuted.
The 34-year-old actor is ready to chill for a sec, though, as he told Terry Gross on NPR Fresh Air this week. First, a little background: Season 1 of Master of None premiered on Netflix on November 6, 2015, and Season 2 premiered on May 12, 2017, or one year, six months, and seven days' difference. That same amount of time from the premiere of Season 2 is … November 19, 2018. Master of None was renewed for a second season on February 11, 2016, three months and five days after it premiered. Three months and five days from May 12 is August 17, 2017. So, yeah, maybe expect an announcement then? Moving on…
Ansari reflected on his success and wondered if he's not taking enough risks creatively. While Master of None has been praised for the ways it mixes comedy with stories about immigration, religion, sexuality, and culture, Ansari wondered:
"What happens is you get to a point where you almost get mad at yourself when you do really well because that means, 'Oh, I'm not taking enough risks.' And I do something where I completely tank, that means I really went for something and tried something difficult. If I'm just killing all the time I'm just worried too much about having a good time and doing a good show in that moment. But you really are pushing yourself if you do something and it goes horrible."
About doing stand-up, Ansari said he may return to it — he's done several well-received televised specials — but maybe not this year.
"In my life I think so, yes, but I want to take a little breather from it and come back, but I don't know. I don't know what I'm going to do now."
He also opened up about what his immediate future holds. After any successful endeavor, everybody wonders what you're going to do next. For Ansari that means doing him for a while:
"You know, it's so interesting to me, I do all these interviews, and everybody is always like, 'What's next, what are you going to do now; are you going to go do standup; are you going to do another season; are you going to do a movie; what are you doing?' It's like, 'I don't know, let me just relax for a second. Let me just live my life; forget Season 3 of Master of None, I'm also doing Season 34 of Aziz Ansari. Let me do that a little bit. Let me live a couple of episodes.'"
Listen to Ansari's full interview on NPR.
More Master of None from Inverse: